Retrograde
(2004)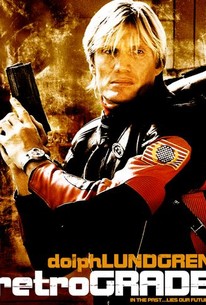 AUDIENCE SCORE
Critic Consensus: No consensus yet.
Movie Info
When a deadly microorganism threatens to wipe out the entire human race, the only hope for the future of mankind is to send a special team of soldiers back in time to prevent the virus from ever coming into existence. The year is 2204. Mankind is under attack from a fast-spreading super-bug that now threatens to destroy the very fabric of human civilization. Our only hope lies with Captain John Foster (Dolph Lundgren) and his elite squad of genetically resistant soldiers. Captain Foster's mission: travel back into the past, and ensure that the first infection never happens. Now, as Captain Foster's team races to save the world, they realize that their actions in the present could yield dire consequences for the future.
Critic Reviews for Retrograde
There are no critic reviews yet for Retrograde. Keep checking Rotten Tomatoes for updates!
Audience Reviews for Retrograde
Old Dolph hits rock bottom with this flick, possibly the most low budget, poorest and laughable action flick from Dolph so far. This really is a joke, even Seagal's films aren't quite as bad as this. The effects look like they been done by a high school student on his computer, the fights and gun battles are hilariously bad, dialog isn't worth mentioning and the cast are starting to repeat films if you look closely, same D-listers for these bargain basement straight to the garbage can offerings. The plot isn't too bad though, travelling back in time to stop a team finding some infected meteors that will infect and wipe out mankind in the distant future with a plague, could be cool but I'm afraid its not. Avoid unless you want a laugh.
Phil Hubbs
Super Reviewer
A confoundingly poor action film. Plot is not usually the genre's strong suit... but in this case, it is not merely ridiculous or unrealistic, but utterly pathetic. One imagines all the high-tech bullets that whiz around during this film are responsible for this hole-riddled plot. Weak (at best) martial arts between clumsily-clad future space commandos makes one think they were on sleeping pills while fighting... and the gunplay is even more frustrating, with pistols that can apparently explode helicopters but can't keep them from resorting to knives against each other 100% of the time. I barely even want to touch on the romantic subplot that manages to be exceedingly convoluted despite its utter superficiality. Hardly worth ones time, with nearly none of its premises (a supervirus, time-travel, or sci-fi action) being even remotely delivered. All one gets are numerous closeups of the freakish bone structure of Dolph Lundgren in such varied settings as "cargo bay", "frozen cargo bay", "frozen tundra" and "corpse-strewn tundra." One might as well just look at publicity stills to receive the same excitement the film has to offer, without wasting an hour and a half of ones life.
Daniel Hetteix
Super Reviewer
Retrograde Quotes
There are no approved quotes yet for this movie.