Rest Stop: Don't Look Back
(2008)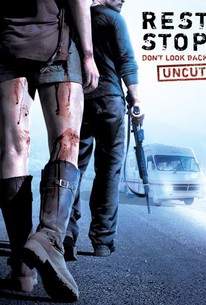 AUDIENCE SCORE
Critic Consensus: No consensus yet.
Rest Stop: Don't Look Back Photos
Movie Info
One year after unsuspecting road trippers Jesse and Nicole were drilled, ripped, and splattered into oblivion, the same psychopath responsible the gruesome deaths of those two young girls returns to refine his torture skills on the three travelers who have come searching for them. Forever roaming the old highway in his Winnebago full of creepy living corpses, the killer finds himself struggling against the forces of the undead when Jesse and Nicole's ghosts return to exact their bloody revenge. ~ Jason Buchanan, Rovi
Critic Reviews for Rest Stop: Don't Look Back
Audience Reviews for Rest Stop: Don't Look Back
Hmmm. Yeah. Look, actually I kind of liked the first Rest Stop. Not saying it was good, but it was creepy enough. This is definitely the weaker movie. Though it starts off okay, it goes steadily downhill and admittedly, I watched this on free to air tv, so it was possibly (actually, probably) cut to bits, but I'm sure it didn't make sense. For example, how did they know to burn the eyeballs?! Acting was definitely not the greatest either. Marilyn in particular, was an irritating and wholly unconvincing character.
Nicki Marie
Super Reviewer
½
The first Rest Stop was a decent horror outing, but this sequel is a mediocre and poorly crafted sequel to the first. The ideas were interesting for this sequel; unfortunately the execution is dull, lazy and uninspired. The first Rest Stop wasn't perfect, but it was entertaining and the concept was good, however you saw that there was a lot more that could have been done with the ideas expressed in the first film. Rest Stop 2 unfortunately doesn't really deliver and has good ideas destroyed by a very bad cast and bad directing. The film could have been done much better, especially with the fact that I thought that the first Rest Stop was a decent little horror flick. The film wasn't anything extraordinary, but it was entertaining enough for what it was. This sequel could have been very good or decent at best. But it wasn't. The film was a waste of time, and you could see that there were good ideas shrouded in a mediocre script. A shame, but in the end what are you going to do. Rest Stop 2 is a bad sequel to a decent horror film that doesn't do anything good with its material, and it suffers from a weak cast and bad directing. Personally, I think that the film should have gotten a rewrite before being put into production. The film could have been good, and there was lots of potential with this sequel, unfortunately it was ruined by a bad script.
This sequel of horror-thriller straight-to-DVD film is injected with slight differentiation by the supernatural element that is present throughout, where ghostly spectres and a family of evangelical psychopaths appear to each of the characters to increasingly confusing and bizarre effect. This, however, does not salvage Rest Stop 2 from mediocrity.
Dean McKenna
Super Reviewer
Rest Stop: Don't Look Back Quotes
There are no approved quotes yet for this movie.