Resident Evil: Extinction
(2007)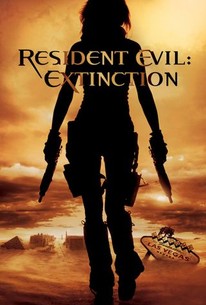 TOMATOMETER
AUDIENCE SCORE
Critic Consensus: Resident Evil: Extinction is more of the same; its few impressive action sequences unable to compensate for the pedestrian plot.
Resident Evil: Extinction Photos
Movie Info
Director Russell Mulcahy takes over for the third chapter in the Resident Evil film franchise, which finds genetically altered Alice (Milla Jovovich) joining forces with Carlos (Oded Fehr) and L.J. (Mike Epps) to take down the Umbrella Corporation once and for all. Upon emerging from her hideout in the Nevada desert, Alice is quickly joined by old friends Carlos and L.J., as well as survivors Claire (Ali Larter), K-Mart (Spencer Locke), and Nurse Betty (Ashanti). Now instilled with super-human strength, senses, and dexterity as a result of the biogenetic experimentation conducted on her by the Umbrella Corporation, Alice and the rest of the survivors set out to eliminate a virus that threatens to turn every living human undead, and ensure that the mysterious organization pays the price for their horrific crimes against humanity. ~ Jason Buchanan, Rovi
News & Interviews for Resident Evil: Extinction
Critic Reviews for Resident Evil: Extinction
Audience Reviews for Resident Evil: Extinction
A change of pace for the third film as we move outta urban settings and weapons/laboratory facility type settings for the open desert. Yep Resi Evil goes for the 'Mad Max' look complete with heavily armoured vehicles including the good old petrol tanker, you just can't go wrong with a tanker in your desert based fantasy flick. The image of Alice being more of a elemental/supernatural type superhero is enforced more in this new film after we learned how badass she was in number two. A motley band of survivors once again are in deep doo doo being attacked by hundreds of ravenous crows (crows in the Mojave desert?), until Alice pops up and saves the day by scorching all the crows to a fiery death with the mind powers she learnt from Professor X. The plot is just like all the other films, a small group of survivors in a different setting, getting taken down one by one, until only Alice and maybe two others remain for the next sequel (where those two normally get killed off early on). I quite liked the idea of Alice roaming the Southwestern US outback looking for supplies and survivors but stumbling across crazy killers that like to watch people get eaten by zombie dogs. You could totally see that happening in the US with all those religious nut jobs over there, real 'Texas Chainsaw Massacre' type folk in the sticks over there. On the subject of zombie dogs, why are they always rottweilers? what has happened to every other type of dog? is there some kind of special sale on zombie rottweilers?? cos they are everywhere! Actually this film felt somewhat muted and not as action packed if you can believe that. Looking back over all of the films this one definitely has a slightly slower pace, less interesting characters and less action...apart from the usual mass of gunshots to zombie heads. On the other hand the visuals seem more realistic (deserts always seem to look good on film) and the zombies look good, grittier. The sequence where the main bad scientist guy tries to domesticate a captured zombie harks back to the classic 'Return of the Living Dead' zombie franchise (third film), nice touch. Despite a more straight tone as it were, this film does suffer from not being quite the ballistic overdrive of action the rest are. It almost doesn't quite fit within the franchise really but I liked the fresh location. The whole film does feel a little bit of an anti climax though, the finale with the mutated creature sums that up pretty well, but as usual the setup for the next sequel intrigues.
Phil Hubbs
Super Reviewer
½
After the disappointing Resident Evil: Apocalypse, this third entry is a well crafted Sci Fi action horror film that erases the mediocrity of the second film. This is a very different film from Apocalypse, yet it continues the saga effectively well, and makes it an entertaining and must see film for fans of the original movie. The film has its flaws, but it relies on its action and zombie carnage to deliver something to the viewers looking an entertaining hour and a half to kill. This is not a film to watch if you're looking for a great story and memorable performances, Resident Evil: Extinction is a movie that is pure entertainment value from start to finish and this one has what the second one lacked, well executed action and less tongue in cheek moments. I felt that this entry had a more serious tone than Apocalypse, and it was a more worthy addition to the series. This is a well made movie that is one of the better films in the series. If you've enjoyed the first one, you're sure to enjoy this one. Extinction has a good amount of action and horror to appeal to genre fans and despite its questionable performances, this one is guaranteed to give fans a good time. Extinction improves on what Apocalypse lacked in terms of an interesting story and good action. There are also enough good elements here to appeal to common horror fans and Resident Evil: Extinction stands on its own as well as a good zombie film. Sure there are aspects that don't really stand out, but there's plenty here to enjoy and make this one worth seeing. As far as I'm concerned, Extinction did a far better job than the second entry in the franchise and it most certainly offers an exciting treat for fans.
½
The first time I watched this was in the theater, and I fell asleep. I found it to be boring, pretentious, and just overall not a very good movie. Now revisiting the movie, I find this to actually be a much better experience, and along with the second movie the best of the series. I really liked the way the movie looks when it's in the desert(the only thing I like when I saw it the first time), and it really pops off of Blu-Ray. Here, Alice(who has superpowers) is looking for fellow survivors, as the world has basically been overrun by the t virus. She meets up with a group in the Nevada desert, some of whom she had teamed with in the second movie. But the umbrella corporation find them, and they have to make it out alive. When this is a straight up zombie movie, it's awesome. Two words: Crow Zombies. But towards the end when again it's like guys with tentacles coming out of their face, or Alice being super powered, it's dumb and the effects are bad. Is it a great movie? No, but I don't think it's a bad movie either. It has enough good qualities to make it watchable. Some movies get better with age, and surprisingly this is one of them.
Everett Johnson
Super Reviewer
Resident Evil: Extinction Quotes
There are no approved quotes yet for this movie.