Reservation Road
(2007)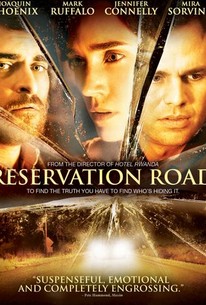 TOMATOMETER
AUDIENCE SCORE
Critic Consensus: While the performances are fine, Reservation Road quickly adopts an excessively maudlin tone along with highly improbable plot turns.
Movie Info
A tale of anger, revenge, and great courage, the film follows two fathers as their families and lives converge. On a warm September evening, college professor Ethan Learner, his wife Grace, and their daughter Emma are attending a recital. Their 10-year-old son Josh is playing cello--beautifully, as usual. His younger sister looks up to him, and his parents are proud of their son. On the way home, they all stop at a gas station on Reservation Road. There, in one terrible instant, he is taken from them forever. On a warm September evening, law associate Dwight Arno and his 11-year-old son Lucas are attending a baseball game. Their favorite team, the Red Sox, is playing--and, hopefully, heading for the World Series. Dwight cherishes his time spent with Lucas. Driving his son back to his ex-wife, Lucas' mother Ruth Wheldon, Dwight heads towards his fateful encounter at Reservation Road. The accident happens so fast that Lucas is all but unaware, while Ethan--the only witness--is all too aware, as a panicked Dwight speeds away. The police are called, and an investigation begins. Haunted by the tragedy, both fathers react in unexpected ways, as do Grace and Emma. As a reckoning looms, the two fathers are forced to make the hardest choices of their lives.
News & Interviews for Reservation Road
Critic Reviews for Reservation Road
Audience Reviews for Reservation Road
½
This psychological thriller paints the darkest picture: what if your child was killed in a hit and run? How far would you go to hunt the culprit? The movie, even though moving slowly, can rely on outstanding acting by the two leading men and Jennifer Connelly. While her reaction is solitude and deep sadness her husband Phoenix is angry and wants revenge. The fact that the man he is looking for ends up being his lawyer is maybe a tad much, like a couple of more coincidences throughout the plot. You can't help but wonder how it's all gonna end, though. As the noose tightens around Ruffalo's neck the viewers can't help but ask themselves how they'd react on both sides of this tragedy. Thankfully, the solution seems to find the only possible salvation.
A film that manages to capture thoughts and raw emotions of all envolved after a tragic accident, in one tragic moments, changes the lives of everyone envolved. I've not seen Joaquin Phoenix display a serious performance like this before and felt it came across well, as did Mark Ruffalo.
Lady D'arbanville
Super Reviewer
½
Decent story concerning a father's anger of losing his son to a hit and run accident while the driver is suffering an enormous amount of guilt. Sometimes it feels like its stealing aspects from "In the Bedroom", a far better depiction concerning a father's need to avenge his son's death. Other times, this is compelling stuff, with Phoenix and Ruffalo giving outstanding performances. Some of the scenes are very overdone though, with enough yelling and tears to last a lifetime. The end lacks closure big time.
Dan Schultz
Super Reviewer
Reservation Road Quotes
There are no approved quotes yet for this movie.