Rescue Dawn
(2007)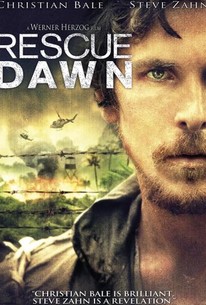 TOMATOMETER
AUDIENCE SCORE
Critic Consensus: Director Werner Herzog has once again made a compelling tale of man versus nature, and Christian Bale completely immerses himself in the role of fighter pilot (and prisoner of war) Dieter Dengler.
Movie Info
In the annals of history's great escapes there is no other story like that of Dieter Dengler, the only American to ever break out of a POW camp in the impenetrable Laotian jungle. After months plotting his getaway from a harrowing prison and a death-defying journey through some of the world's fiercest wilderness, Dengler appeared at his first press conference looking like a dashing movie star and showing neither sentimentality nor bitterness - simply an indomitable will to survive that allowed him to triumph against impossible odds.
News & Interviews for Rescue Dawn
Critic Reviews for Rescue Dawn
Audience Reviews for Rescue Dawn
Werner Herzog's Rescue Dawn is a stunning war drama with some impressive performances from its cast. This is a superb film that is tense, thrilling and highly memorable from start to finish. The story is engaging from start to finish, and it's a surprising film with plenty to enjoy. Werner Herzog is more famous for directing documentaries, however here he crafts a stunning film based on facts, and he proves that he is able to make something truly engaging here that equals his documentaries. I found this to be a standout Vietnam War film, one that was quite different as well because it's a story about survival against strong odds. The story is well layered and thoroughly engaging and you are just sucked into the film's story. There has been criticism about Christian Bale's casting, but I thought he was good in the role and he had some good range that he would showcase in many other dramatic roles. Rescue Dawn succeeds on many levels, and if you enjoy the genre, this is a film well worth your time. The film blends effective action with tense dramatic moments and in turn it really makes the film that much better. With standout direction and a great story, Rescue Dawn is a war film that manages to standout among others because it feels very personal because it follows the journey of one man in order to survive his ordeal as a POW to his escape and rescue. This is a must watch for genre fans, and I feel that Bale deserves more praise than what he got. With a fine blend of drama and war, this film succeeds at being a unique and memorable viewing experience.
½
Excellent performances by Bale and Zahn. (I know...Zahn! Who knew?) It's a fascinating history lesson with a compelling story and strong character development.
Christian C
Super Reviewer
½
Christian Bale stars in this true life story of Dieter Dengler, a German born American pilot who was shot down during a classified mission over Laos and was later interned at and escaped from a Vietcong prisoner of war camp. All the usual prisoner of war ingredients are here and once again Bale proves his willingness to suffer for his art, genuinely undergoing many of the harrowing ordeals Dengler went through, including water torture, eating maggots and wrestling with leeches and poisonous snakes. The documentary approach gives the film a genuine credibility but I also found it a little dry, as I didn't really feel any emotional attachment to the characters. It's certainly a well made and interesting film though, and Herzog skillfully side steps the usual flag waving histrionics that would probably have resulted from an American director's involvement, at least until the rather overly feelgood ending. It's beautifully photographed and Steve Zahn is suitable harrowed as his escape companion, but once again it's Christian Bale's performance that makes the film. A good, solid prisoner of war film although it may be a little uneventful for some tastes.
Rescue Dawn Quotes
There are no approved quotes yet for this movie.