Reindeer Games (Deception)
(2000)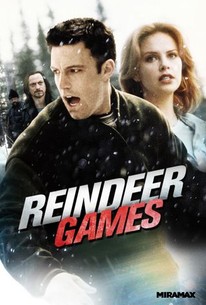 Reindeer Games (Deception) Photos
Movie Info
A burglar looking to make time with a beautiful woman after five years in prison falls into a dangerous trap in this action drama. Rudy (Ben Affleck) is serving time in prison for auto theft, where he becomes friendly with his cellmate Nick (James Frain). Nick has been enjoying a spicy courtship by mail with a woman named Ashley (Charlize Theron), who has sent him several enticing photos, even though he has been unable to send her any of himself. Rudy and Nick are to be released the same day, but Nick is killed in an altercation with only three days left to serve. Rudy is let out on schedule, and discovers Ashley, unaware that Nick is dead, is waiting for him. Swayed by her beauty, Rudy claims to be Nick, which turn out to be fun until Rudy meets Ashley's brother Gabriel (Gary Sinise). Gabriel runs with a group of outlaws planning on using Nick's knowledge of an Indian gambling casino in Michigan where he once worked in order to stage a massive robbery on Christmas Eve. Rudy soon realizes if keeps on being Nick, he gets to stay with Ashley, but he'll also have to go along with Gabriel's robbery, which could easily land him back in prison -- or get him killed. Clarence Williams III, Danny Trejo and Donal Logue play Gabriel's henchmen; Dennis Farina, Isaac Hayes, and Ashton Kutcher also highlight the supporting cast. ~ Mark Deming, Rovi
News & Interviews for Reindeer Games (Deception)
Critic Reviews for Reindeer Games (Deception)
Audience Reviews for Reindeer Games (Deception)
½
The trap is set. The game is on. Good movie. This film was entertaining and had a real good story with a very great ending I must say. Really good cast to go along a very good movie is priceless. After being imprisoned for six years on a grand theft auto charge, Rudy Duncan (Ben Affleck) and his cellmate Nick (James Frain) are finally going to be paroled. After hearing endless stories during his incarceration of Nick's romantic correspondence to a woman named Ashley he has never met (Charlize Theron), Rudy is looking forward to returning to his family and having a fresh cup of hot chocolate. When Nick is killed during a prison riot, Rudy decides to assume Nick's identity upon release from prison and meet up with the unknown woman. Burdened with a base knowledge of Nick's Indian casino employment past, Rudy finds himself in too deep with Ashley's brother Gabriel (Gary Sinise) and is violently forced to cooperate with a casino robbery that Gabriel and his gang have been planning with Nick in mind.
½
i really liked this film its amusing and is action packed and not a bad storyline so i really enjoyed it!
Film Crazy
Super Reviewer
Reindeer Games (Deception) Quotes
There are no approved quotes yet for this movie.