Reel Injun
(2010)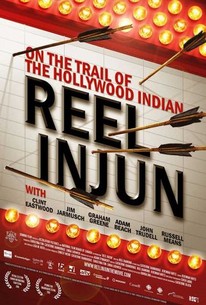 Movie Info
Native American and Aboriginal peoples have long played a part in Hollywood filmmaking, but the picture presented of them was not always flattering or accurate. Most westerns of Hollywood's Golden Age presented "Indians" as either ruthless savages with no sense of honor or fools who were lost without the help of the white man. (Adding insult to injury, they were usually played by white actors in make up.) However, as issues of Native American rights came to the forefront in the 1960s, more filmmakers stepped forward to offer a more positive and thoughtful portrayal of Aboriginal characters on screen, and Native American performers were given a greater opportunity to present the story of their people in television and the movies. Director Neil Diamond (a member of Canada's Cree community) offers a look at the past, present and future of Native People on the big screen in the documentary Reel Injun, which includes interviews with actors Adam Beach, Graham Greene and Sacheen Littlefeather, filmmakers Chris Eyre and Zacharias Kunuk, and artists and activists John Trudell and Russell Means; Clint Eastwood and Jim Jarmusch also speak about Hollywood's history and their own experiences in presenting Native Americans in their films. Produced in cooperation with the National Film Board of Canada, Real Injun was an official selection at the 2009 Toronto International Film Festival. ~ Mark Deming, Rovi
News & Interviews for Reel Injun
Critic Reviews for Reel Injun
Audience Reviews for Reel Injun
½
There are several documentaries like this about racial stereotyping in Hollywood on the streaming service Kanopy, although I think I initially streamed this on Netflix before I had heard of the new Kanopy site through my library. A fascinating exploration of the subject with a lot of movie clips and interviews. The filmmakers and many interviewees are angry at the way First Nations people were/are depicted. You can also see in the trailer and throughout the film that many are able to look at the inherently racist movie industry with a sense of humor and hope for the future. The doc is not narrowed to only looks at Hollywood feature films, but a stand-up comic who worked in the 70s is featured as well as the controversy involving the "crying Indian" from a famous 70s TV commercial. And rather than the filmmakers remaining off screen, native filmmaker Neil Diamond, one of a trio of writer-directors, is shown traveling around to meet interview subjects. He also visits a real-life old west town that let's tourists dress up and live a bit of wild west cowboy fantasy (minus the androids of Westworld). This definitely makes a statement.
Byron Brubaker
Super Reviewer
½
Director Neil Diamond explores the portrayal of Native Americans throughout the history of American cinema, exposing the racist stereotypes that films have perpetuated. it's hard for me to review this film. I think that I, along with most of the rest of modern American culture, am trained to pick at the negative with an almost knee-jerk quickness so that when I find a film with which I agree so heartily, I have little to say. Diamond's analysis is spot-on. Yes, the vast majority of John Wayne westerns are racist. Yes, Disney's Pocahontas is infantile and racist. Yes, Natives in film are either pre-modern savages or pre-modern hippies who have to make way, usually through their gruesome demise, for "civilization." Yes, yes, yes. The film lauds Native cinema by Natives, and it contextualizes Marlon Brando's public refusal of his Oscar to raise awareness of Native rights. The half-star off is because even though the academic analysis of American film is great, the road-trip story is half-baked and doesn't provide the through-line for the film that Diamond intended. Overall, Reel Injun is a fantastic analysis of Natives in film, and it should be required viewing in any film school.
Jim Hunter
Super Reviewer
½
An eye opening and thought provoking investigation into the evolution of Native American portrayals in film. Director Neil Diamond examines contemporary projects and revisits a few old classics on his way to exposing racial stereotypes and blowing up long held misconceptions about Aboriginal culture.
Randy Tippy
Super Reviewer
Reel Injun Quotes
There are no approved quotes yet for this movie.