Redline
(2007)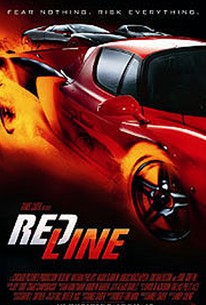 Movie Info
Eddie Griffin and Nathan Phillips put the pedal to the metal in stunt coordinator-turned-director Andy Cheng's supercharged auto thriller. As a serious collection of speed freaks gather to hit the streets in hopes of winning 24 million dollars, every rule is broken and the law simply doesn't have enough horsepower to ensure that justice is served. With the speedometer maxed out and the past becoming nothing more than a fading image in the rearview mirror, these drivers will do whatever it takes to win the prize that promises to change their life forever. In addition to featuring a score (and cameo) by hip-hop icon Wyclef Jean, Redline was produced by real-estate developer-turned-producer Daniel Sadek -- who not only financed the 26-million-dollar film, but also donated his personal car collection to the production. Featured automobiles include Sadek's Lamborghini Murcielago, Enzo Ferrari, Ferrari F430, Ferrari Scaglietti Phantom, and two McLarens. In a bid to increase the realism of the driving scenes, one of Sadek's two 400,000-dollar Porsche Carrera GTs was set to be destroyed for the film.
News & Interviews for Redline
Critic Reviews for Redline
Audience Reviews for Redline
½
A really bad take of the fast and furious films, but with a made for TV feel. Terrible acting, script, effects, story and editing! Only good thing about it was seeing a Ferrari Enzo, Porsche Carrera GT in action and the lead female is easy on the eye.
Well...at least you can look at the cars.
Roy Gutteridge
Super Reviewer
½
Chicks and cars, chick and cars.... two things that blokes love! But is that enough to warrant watching this movie? Just download it or spend a dollar at the video store, not worth 10 bucks for a movie ticket. But anyways, the cool thing about this car flick is of course... the NIIIIICCCCCCCCEEEEEE collection of exotics... seriously they should be in the credits than the bad actors... though the lead girl is HAAWWT she hasnt got a career in the movies, and might be resigned to making movies like this, like all other bombshells.... but hey if she can drive like that in life, she can shift my gears anytime! XD just watch it for the obvious reasonsand get over it.... though the CAR action scenes are pretty cool, but the stunts reek of computer graphics.... direction poor, pretty much everything is lame except the car chases and races. Lambos, Ferrari's, Shelby's, Bugatti's, Merc's and anything worht more than 400 grand..... hey hey hey!! 2 Stars for the cars.... and maybe a genrous half added for Ms Nadia, the hottie who can sing. Watch it and move on.... the next Fast and Furious is being shot, Vin and Paul returning, so hopefully that will be better!
Redline Quotes
There are no approved quotes yet for this movie.