Redbelt
(2008)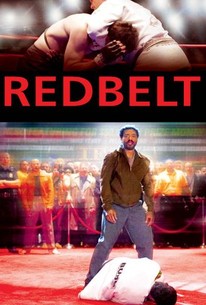 Movie Info
"Redbelt" is the story of Mike Terry, a Jiu-jitsu master who has avoided the prize fighting circuit, choosing to instead pursue a life of honor and education by operating a self-defense studio in Los Angeles. Terry's life is dramatically changed however when he is conned by a cabal of movie stars and promoters. In order to pay off his debts and regain his honor Terry must step into the ring for the first time in his life.
News & Interviews for Redbelt
Critic Reviews for Redbelt
Audience Reviews for Redbelt
½
A superbly crafted and supremely entertaining film. A remarkable, well-written and brilliantly performed piece. Director, David Mamet's masterpiece, he truly knows how to make a truly engaging and riveting movie. Mamet's love for the sport shows in this piece and the respect that it should be given. An impressive, intelligent, stunning, powerful, and satisfying movie. It's beyond amazing. An absorbing, thrilling, gripping and sensational thinking-man's dramatic thriller. it hits you with the intense brass-knuckles of reality. An extraordinary cast. Chiwetel Ejiofor gives an outstanding performance, he truly established himself as a star and leading man and is capable of almost any challenge. Emily Mortimer is fantastic. Tim Allen is excellent.
After the arguably awful "Spartan", writer/director David Mamet delivered this. It could be called a genre picture but if you know Mamet, you'll know he doesn't really follow conventions. Mixed-martial-arts instructor Mike Terry (Chiwetel Ejiofor) has money problems. He could earn $50,000 in a competition, but honour precludes him from fighting for money. Then a series of chance encounters leaves him no choice but to step into the ring. The film opens dramatically, introducing several of it's key characters in quick succession and manages to maintain this drama for a lenghty period. In fact, for almost the entire film. The acting is marvellous with Chiwetel Ejiofor's central, dynamic performance a real highlight. He's a fine actor, deserving of more major leading roles. As always, David Mamet's dialogue is sharp and natural, helping his characters come to life. At first, so many strands to the story are introduced, with no explanation, before eventually bringing them all cleverly together. Mamet is known for his writing skills and again they are on display here. Despite the undeniable power though, as it progresses, it starts to veer toward the formulaic side (which I suppose is difficult considering it's subject) and ties it's many strands up rather quickly, in a nice red bow (or quite literally 'belt'). It was far too neatly done and gave the feeling of being rushed, letting down an otherwise superb film. Although flawed, it's still absorbing and one of David Mamet's better films. It's not a major demerit but I found it to be a bit short, I was enjoying it so much that I could have done with an extra half an hour. Then again, maybe there is no higher compliment than this.
Mark Walker
Super Reviewer
A Mamet work that is not made in the rhythm of dialogue. It's a melodrama and when the movie does exposition, it's like a joke on melodramas, past and present ( -- it reminded me of the "Wally Beery wrestling picture" the studio boss wanted Barton Fink to write). But when the movie does silences and implications, disparate characters and their problems seem part of the same real world. Ejiofor is amazing and for all the power and magnetism he brings to the surface of the movie, as an avatar of honor and purity, the real pull of this story is in the undertow. This is, I think, a very sad movie. No matter what points the hero scores for authenticity and fidelity to principles, there is not enough time before the buzzer sounds. It's as if he and his old master cry that there is even such a thing as a redbelt, for their ideal will always be greater than the world they know and greater than they themselves, who are part of that world. When the hero repeats, "There is no situation that you could not escape from. There is no situation that you could not turn to your advantage," any adult knows that's not true. Not only is this credo anti-noir, it's anti-Greek tragedy. The credo becomes like a losing declaration of faith for the hero, and I know Mamet doesn't believe it. He may believe that listening to the wolves when *they* say there's no escape is to feed yourself to the wolves without a fight.
Adam Mahler
Super Reviewer
Redbelt Quotes
There are no approved quotes yet for this movie.