Redacted
(2007)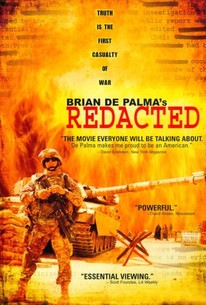 TOMATOMETER
AUDIENCE SCORE
Critic Consensus: Despite DePalma's obvious commitment to the material and passion for the issues at hand, Redacted suffers from stereotypical characters and a forced faux-doc style.
Movie Info
A fictional story inspired by true events, "Redacted" will force viewers to reconsider the filters through which we see and accept events in our world, the power of the mediated image and how presentation and composition influence our ideas and beliefs. A profound meditation on the way information is packaged, distributed and received in an era with infinite channels of communication, "Redacted" utilizes a variety of created source material--video diaries, produced documentary, surveillance footage, online testimonials, news pieces--to comment on the extreme disconnect between the surface of an image and the reality of ideas and the truth, especially in times of strife. Centered around a small group of American soldiers stationed at a checkpoint in Iraq, "Redacted" alternates points of view, balancing the experiences of these young men under duress and members of the media with those of the local Iraqi people, illuminating how each have been deeply affected by the current conflict and their encounters with each other.
News & Interviews for Redacted
Critic Reviews for Redacted
Audience Reviews for Redacted
Not much to say about this one, pretty burtal. 2 stars
Bruce Bruce
Super Reviewer
"Redacted" is a terrible piece of filmmaking, with an atrocious script, direction so flat-footed that it's laughable, and acting so bad you wince almost non-stop. What's more, the film is despicable, exploiting the nightmare of the Iraq War in an almost pornographic way. I'm not sure I'll ever be able to watch another Brian De Palma film or shake the stench of "Redacted" from my imagination. The film is loosely based on an alleged rape and murder that was committed by U.S. soldiers in Iraq. I certainly think this subject matter warrants exploration by artists, but not by schlockmeisters seeking to cash in on it. "Redacted" operates at the level of ghoulish videographers who get excited when tragedy strikes because they can get great footage. Yet here there isn't even great footage. Every shot seems fake. I think this is the worst film I've ever seen.
William Dunmyer
Super Reviewer
Flashy production and faux multiple media sources don't make this feel authentic and the points about Iraq have been better made elsewhere (Battle for Haditha).
Gordon Anderson
Super Reviewer
Redacted Quotes
There are no approved quotes yet for this movie.