Csillagosok, katonák (The Red and The White)
(1967)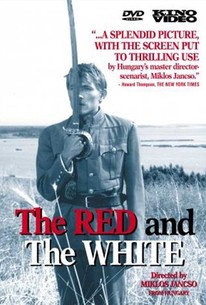 Csillagosok, katonák (The Red and The White) Photos
Movie Info
Miklos Jancso's epic historical drama chronicles the spill-over of the 1918 Russian Revolution into the director's native Hungary, where the nation's forces sided with the Communist Red Army against the overpowering counterrevolutionary White forces.
Critic Reviews for Csillagosok, katonák (The Red and The White)
Audience Reviews for Csillagosok, katonák (The Red and The White)
½
it's true the film has no real plot or central characters-- and that's exactly the point. it's a series of skirmishes between the red (soviet) and the white (tsarists), plus assorted hungarian volunteers, immediately following the russian revolution. the film makes no judgement between the two sides, leading it to be banned by the soviets, who had funded it. one great statement about the chaos and futility of war
Stella Dallas
Super Reviewer
½
While exquisitely filmed, "The Red and the White" lacks any kind of traditional story, much less a beginning and an end to its tale. In fact, the movie consists of a series of skirmishes between the well-outfitted and armed White armies and the remnants of the Red armies during the Russian Civil War in 1919. A good deal of this involves the hunting and executing of military prisoners, first sorting them into Russians and foreigners, before ordering them to take off their shirts which can either be considered a symbol of dehumanization or a sign that beneath a uniform, we are all the same. Like volunteers and insurgents in the Spanish Civil War and the current Gulf Wars, right or wrong, they see a struggle that transcends simple nationality. In this case, it is Hungarian soldiers who have traveled to Russia to aid the Red armies, hoping that their actions will help the revolution which in return will spur change in their own country. They might be glad to know their actions will indeed have an effect on the future of their country, if not exactly what they intended. Not only did Hungary not get the brand of socialism they wanted for it, but there were also the Soviet tanks of 1956.
The division bell is ringing too fast for the weak and meek.Reds,Whites,colors are futile.It's the physical and mental torture that fastens your seat.Whatever occurred in historical manners,this vice-versa irony is entrancing and utterly disturbing,since cruelty isn't measured in uniforms and consequences.
Dimitris Springer
Super Reviewer
Csillagosok, katonák (The Red and The White) Quotes
There are no approved quotes yet for this movie.