Read it and Weep
(2006)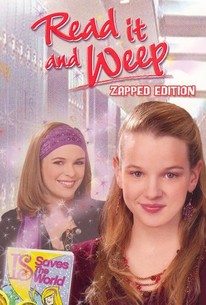 AUDIENCE SCORE
Critic Consensus: No consensus yet.
Movie Info
Originally produced and aired during the summer of 2006 on The Disney Channel, the gentle, family-friendly teen comedy Read It and Weep constitutes an adaptation of Julia DeVillers' popular 2004 young-adult novel How My Journal Became a Bestseller. The film revolves around Jamie (Kay Panabaker), a pretty and intelligent high-school freshman, but also a complete wallflower who spends the majority of her time daydreaming and scribbling in her personal journal, and whose chances of entering the popular cliques are slim at best. Jamie carries a secret weapon, however: a brash and sharp-tongued alter ego named Isabella, or "Is" (played by Kay Panabaker's twin sister, Danielle Panabaker), who parades through the halls and classrooms of her high school with not an iota of self-doubt in her mind, and who manages, in no time flat, to throw her enemies into detention and win the devotion of the most popular boy in her school. Then, one day, Jamie's life turns a corner when, in an attempt to meet a class deadline, she accidentally turns in her private journal instead of a composition assignment -- and her teacher promptly turns it into a best-seller. Alexandra Krosney, Marquise C. Brown, Jason Dolley, and Nick Whitaker co-star; Patrick J. Clifton and Beth Rigazio co-wrote the adaptation.
Critic Reviews for Read it and Weep
Audience Reviews for Read it and Weep
½
Read It and Weep tries to package elements of 1996's Harriet the Spy into an episode of Naturally Sadie and then throws in the standard "teenage girl's upward social mobility causes her to neglect her best friends". This is one of those movies that give film producer's anxiety attacks about their job security. It not only looks good on paper but it is very well executed. Good songs, Kay Panabaker has an effortless charm and does a slick voice-over narration, the acting for the camera direction is excellent and the budget was large enough for professional production design. But, there is fact that none of the movie's comedy elements are humorous. It's not meant to be a comedy but the producers have clearly inserted stuff only for their comic qualities. Unfortunately none of this stuff is even remotely funny. Finally there is the whole imaginary alter ego thing, a character who pops in and out of countless scenes as a kind of counterpoint to the voice-over commentary. Ultimately this adds nothing to the story and the repositioning of the character with each sentence is genuinely irritating. Read It and Weep premise needs a better treatment but the movie should still be enjoyable for many in the middle school crowd, especially if they are crushing on one or more of the actors. There is little that is worth the interest and attention of younger or older viewers.
Steven Vincent Gee
Super Reviewer
Cheesey teeniebopper movie, but still cute.
Dannielle Albert
Super Reviewer
Read it and Weep Quotes
There are no approved quotes yet for this movie.