Rats - Notte di terrore (Blood Kill) (Rats: Night of Terror)
(1984)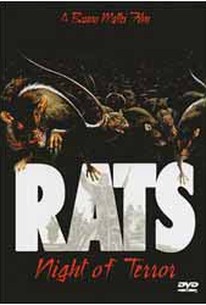 AUDIENCE SCORE
Critic Consensus: No consensus yet.
Movie Info
In the year 225 A.B. (After the Bomb), a group of post-apocalyptic bikers discover an abandoned research laboratory filled with food, water... and thousands of rats. But these are no ordinary vermin these are super-intelligent mutant rodents with a ravenous appetite for human flesh. Can a bunch of heavily armed but not-too-bright human scavengers survive a night of terror against the most hungry and horrific predators on earth?
Critic Reviews for Rats - Notte di terrore (Blood Kill) (Rats: Night of Terror)
All Critics (2) | Fresh (1) | Rotten (1)
There's plenty of ratty nastiness, all wonderfully pre-CGI and much of it quite well done, without ever hitting Fulci-levels of ickyness. That said, fans of 80s video rental gore will be delighted with the deaths on offer.
It's there to watch once, laugh at and then use the DVD for a coaster.
Audience Reviews for Rats - Notte di terrore (Blood Kill) (Rats: Night of Terror)
One of Bruno Mattei's most beloved films by fans, not because it's great, but because it's laugh out loud awful! The fun factor is high and the cheesy characters and English dubbing are both major players in providing the entertainment. Special mention also to the Rats in the film and their complete lack of enthusiasm in their roles as bloodthirsty maneaters, the poor buggers are kicked, stamped, thrown and torched all over the place! There are a couple of decent kills but I was expecting a bit more gore so marks off for that. Overall not quite as enjoyable as Zombie Creeping Flesh but still a good fun watch with friends and beers.
Gets both stars for being an absolute comic gem. From the overacting, not helped by hilarious dubbing, to some of the "special" effects. I think they were trying to avoid swearing, which led to classics such as "Next time I wont be so LENIENT!". When rats attack people, they seem to always fall from the sky, probably because crew members were just chucking them down on actors. There's one classic shot where hundreds of rats attack. But these aren't your everyday rats,they seem to be solid plastic and placed on a conveyor belt, in order to give the impression of a speedy swarm. The end was surprisingly good, and is the only point where the films limitations aided, rather than hindered.
Luke Baldock
Super Reviewer
½
Hilarious. Bruno Mattei's incompetent directing infused with terrible over-acting make this one a film I love to revisit anytime I need a good hearty laugh. A post apocalyptic nightmare, with rats!
Christopher Brown
Super Reviewer
Rats - Notte di terrore (Blood Kill) (Rats: Night of Terror) Quotes
There are no approved quotes yet for this movie.