Rare Exports: A Christmas Tale
(2010)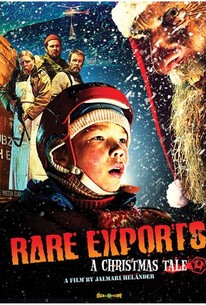 Rare Exports: A Christmas Tale Photos
Movie Info
It's the eve of Christmas in northern Finland, and an 'archeological' dig has just unearthed the real Santa Claus. But this particular Santa isn't the one you want coming to town. When the local children begin mysteriously disappearing, young Pietari and his father Rauno, a reindeer hunter by trade, capture the mythological being and attempt to sell Santa to the misguided leader of the multinational corporation sponsoring the dig. Santa's elves, however, will stop at nothing to free their fearless leader from captivity. What ensues is a wildly humorous nightmare - a fantastically bizarre polemic on modern day morality. RARE EXPORTS: A CHRISTMAS TALE is a re-imagining of the most classic of all childhood fantasies, and is a darkly comic gem soon to be required perennial holiday viewing. -- (C) Oscilloscope
News & Interviews for Rare Exports: A Christmas Tale
Critic Reviews for Rare Exports: A Christmas Tale
Audience Reviews for Rare Exports: A Christmas Tale
This movie will not be for everyone. I just wanted to get that out of the way first before going into the details. This can be a very off-putting film at times, but it is also an undeniably well-made film. During the holiday season, I as much as anyone, enjoy to kick back with family and watch some classic Christmas films, but I do wish that more films like this would be released. Sometimes you just need a little jerk into reality once in a while. This is the darkest Christmas tale involving Santa Claus that I have ever seen. Mostly in the language of Finnish and only at a mere 80 minutes, this is a very quick film to get through if you don't mind reading subtitles. Here is why Rare Exports: A Christmas Tale is so enjoyable and memorable. From the very beginning, it is clear that this will not be just another average Christmas or horror flick. Beginning with reindeer being slaughtered on the day that an elderly man appears in a bear trap is just a little taste of what is to come. This film is really about two kids being in the wrong place at the wrong time, setting these events in motion. The elderly man is actually Santa Clause and he attacks and eats living things. His little helpers are other elderly naked men and attempt to slaughter any human in their path. Yes, this film truly is that bizarre. I must admit that the finale does wrap up too quickly and I felt like they were working around a tight budget, even though the filmmaking from beginning to end is gorgeous. Although cinematographer Mika Orasmaa is not particular renowned as a great cinematographer, in fact making some pretty terrible movies over the past few years, his work on Rare Exports: A Christmas Tale really stood out to me. From the subtly of catching the perfect lighting at sunset or keeping a character front and centre in the frame when needed, this film is wonderful to gawk at. I will also commend the screenplay, even though it is a far more basic story than I was expecting it to be. The concept is what feels original, but aside from that, there really isn't much else adding substance. As I said, the biggest positives I can commend this film for accomplishing is the fact that they were able to pull of such a large scale on such a small budget, while also delivering some pretty amazing visuals through camerawork and visual effects. It also revitalizes the legend of Santa Claus in a way that may even have adults on edge. There are quite a few thrilling moments sprinkled throughout this film, along with believable performances and a climax that is satisfying enough. Having said all that, Rare Exports: A Christmas Tale is not perfect. The low budget does present itself on a few occasions and the ending feels very rushed. There is a three act structure to this film, but it does feel more like one continuous act, building throughout the film. Nevertheless, I was very entertained from start to finish. As I said, In the end this Finnish produced film is an absolute blast from beginning to end. Filled with cool characters, a terrific performance by young Onni Tommila, and a plot that may be a bit outlandish, but works in the end, Rare Exports: A Christmas Tale finishes on a clever, but silly note. For many reasons, this is not a perfect film in any way, but I can't deny the fact that I thoroughly enjoyed myself and would recommend it to anyone who wants to get a little taste of a whole new genre this holiday season. It has been in release for over six years, but the time has not diminished it. It is a very short and simple tale that is not afraid to visualize the concept in a graphic way. It is absolutely not for kids, but if you know what you are getting into, I highly recommend it.
½
This Finnish Christmas tale looks better than most other films from Europe. Arthouse lovers could complain that it got Hollywoodized too much, but the wonderfully wacky story of "the original" Santa tale should please everyone with a sense for unusual horror. The mix of traditional folklore, family story and monster film just works really great together. Especially the ending is so clever you can't help but hope this is a true story.
½
Interesting movie. Rather strange, if you ask me. I'm not sure I get why so many people seemed to love it. This was an unanimated Tim Burton kind of Christmas movie. My biggest disappointment with the film is what we don't get to see. I didn't understand why we got to see a bunch of less than adorable naked elderly elves, but we couldn't get a single shot of Santa? It was also confusing that the first hour of the story is for older kids or adults, and then once the young boy starts calling the shots, it's reverses back to a kid's film. Not much magical, or mystical, about this particular fairytale. Dark, but weird...
Cynthia S.
Super Reviewer
Rare Exports: A Christmas Tale Quotes
There are no approved quotes yet for this movie.