Rancho Deluxe
(1975)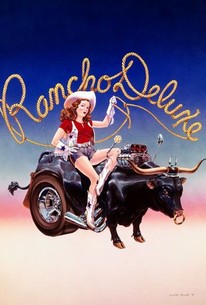 Movie Info
In this comedy western, cattle rustlers Jack McKee and Cecil Carlson's special target is taciturn rancher John Brown. Together, they plan to lift themselves out of the penny-ante class with one big crime caper. Brown gets wind of their scheme and sends private eye Henry Beige after them.
Critic Reviews for Rancho Deluxe
Audience Reviews for Rancho Deluxe
½
"Rancho Deluxe" is the epitome of a "sleeper," in both the good and bad senses of the word. Let's face it -- this film is dull. Intentionally dull, even. The setting is the open spaces of Montana, and the screenplay is quite straightforward in indicating the characters' chief motivation for doing anything is just sheer boredom. Jeff Bridges and Sam Waterston play a couple of laidback cattle rustlers who torment a swaggering rancher (Clifton James), as much for laughs as for profit. The dialogue is loosely written, and scenes abruptly cut off when the well runs dry. More exciting moments (such as the abduction of a prize bull or a visit to a brothel) are perversely chopped before the real action occurs, and there's really not much reason to watch until Slim PIckens comes along and steals the movie as a wily rustler hunter. Harry Dean Stanton has some nice scenes as a corrupt ranch hand with a heart, but Elizabeth Ashley is wasted. Jimmy Buffett (still a couple of years away from being wasted in "Margaritaville") briefly appears in a bar sequence and sings a few songs on the soundtrack.
Eric Broome
Super Reviewer
Watching "Rancho Deluxe" is an experience that no one should have to endure. The film is unbearable and painful and awful in almost every cinematic aspect that there is. It is horrendously scripted, edited, and acted, and after 45 minutes of watching the director trip over his own two feet countless of times, I shut the film off. What a waste of celluloid.
Stephen Earnest
Super Reviewer
Elizabeth Ashley, Harry Dean Stanton and Richard Bright...and the scene where Bridges and Stanton are talking over Pong
Adam Mahler
Super Reviewer
Rancho Deluxe Quotes
There are no approved quotes yet for this movie.