Ran
(1985)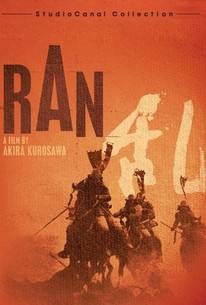 TOMATOMETER
AUDIENCE SCORE
Critic Consensus: Akira Kurosawa's sprawling, epic take on King Lear should be required viewing for fans of westerns, war movies, or period films in general.
Movie Info
Ran is Japanese filmmaker Akira Kurosawa's reinterpretation of William Shakespeare's King Lear. The Lear counterpart is an elderly 16th-century warlord (Tatsuya Nakadai), who announces that he's about to divide his kingdom equally among his three sons. In his dotage, he falls prey to the false flattery of his treacherous sons (Akira Terao and Jinpachi Nezu), while banishing his youngest son (Daisuke Ryu), the only member of the family who loves him enough to tell him the unvarnished truth. Thanks to his foolish pride, his domain collapses under its own weight as the sons battle each other over total control. Kurosawa's first film in five years, Ran had been in the planning stages for twice that long; Kurosawa had storyboarded the project with a series of vivid color paintings that have since been published in book form in England. The battle scenes are staged with such brutal vigor that it's hard to imagine that the director was 75 years old at the time. This 160-minute historical epic won several international awards, but it was not a hit in Japan, and it would be five more years before Kurosawa would be able to finance another picture. ~ Hal Erickson, Rovi
Audience Reviews for Ran
At 75 years old, Kurosawa delivers this epic and breathtaking cinematic spectacle of disgrace and tragedy falling upon mortal men, a grandiose production with overwhelming war scenes and spellbinding visuals - even if also a bit long and repetitious in its second half.
Carlos Magalhães
Super Reviewer
½
An epic retelling of Shakespeare's "King Lear", detailing the actions of a ruthless king (Tatsuya Nakadai) and how his good intentions of dividing his kingdom amongst his three songs goes horribly awry, and a power struggle of biblical proportions unleashes itself upon this leader. This is a story loaded with intriguing themes such as guilt, power, violence, revenge, and insanity, and all of these come clashing together to form one huge beast of a film. Although, granted, it is slow-paced and the expository beginning goes on a little long, when it gets rolling it remains arresting and intense throughout. Nakadai's turn is simply sensational, as he fully captures the crippling insanity that threatened to tear this king asunder. The battle scenes are also a work of art, where the legendary director Akira Kurosawa really flexes his artistic muscles and conjures up some truly chilling moments. It falls a little short of perfect due to its beginning, but it is still a magnificent movie well worth a view.
Dan Schultz
Super Reviewer
Akira Kurosawa's Ran is a brilliant, sweeping picture using plenty of themes for build an incredible story. Greed and revenge are the themes explored in the film, and Kurosawa always managed to get the most out of his film because he crafts films that really resonate with the viewer. Ran is such a film. Brilliantly shot, acted and directed, the film, not only boasts effective performances, but has stunning imagery, which adds so much to the film. Fans of his work will definitely relish in the power that the film possesses. I much preferred Kurosawa's earlier work, but Ran is nonetheless a strong film that features all the trademarks that has made Kurosawa's work so good. With strong performances, and a simple, yet effective story, Ran is brilliant, poetic filmmaking that should be seen by any film buff. I really enjoy films that have simple ideas for storylines, and I find that the filmmaker is able to get much more depth out of an idea without overdoing anything, and the result is an impressive effort that ranks among the finest foreign films. Nonetheless, I still think that Seven Samurai was Akira Kurosawa's masterstroke of filmmaking. He has never topped it, but he always delivered thought provoking, epics that managed to be some of the finest films ever made. If you want a good action drama, then give this a viewing, it is a film going experience like no other, and it's one of the few foreign films that have stood the test of time. This is a film worth seeing, and it is enthralling experience from start to finish that will surely appeal to viewers looking for a film that has a simple idea, yet grand execution in style. That was what stood out for Akira Kuroswawa's work, his knack to create big, ambitious films while keeping everything to a bare minimum, as to not complicate things for the viewer and in the process, he created something quite remarkable in the cinematic medium.
Ran Quotes
There are no approved quotes yet for this movie.