Rampage
(2009)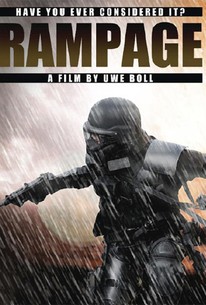 AUDIENCE SCORE
Critic Consensus: No consensus yet.
Movie Info
A small town misanthrope builds a bulletproof Kevlar suit and goes on a merciless killing spree in this visceral thriller from director Uwe Boll (Heart of America, Postal). Bill Williamson (Brendan Fletcher) is frustrated. Well into his 20s but still aimless, the only time Bill leaves his parent's house is to hang out with his best friend Evan (Shaun Sipos). But Bill's mom (Lynda Boyd) and dad (Matt Frewer) are getting tired of supporting their freeloading son, and begin turning up the pressure on him to finally find his own place to live. When Bill's boss refuses to give him a raise, something snaps deep inside. Bill is going to send a message to society, and society isn't going to like what he has to say. By the time the gunfire starts there's no turning back, and even the innocent won't be safe as Bill embarks on a grim mission to cleanse this world one bullet at a time.
Critic Reviews for Rampage
All Critics (2) | Fresh (2) | Rotten (0)
If you're looking for something different and you're secretly rooting for Uwe Boll to finally come out with a decent movie, you ought to check out Rampage.
Uwe Boll can be a little less angry today knowing he has crafted a solid, tension-filled, original thriller about subject matter that few filmmakers would dare even touch. Congratulations, Dr. Boll, you've silenced many of your critics.
Audience Reviews for Rampage
Vengeance is ruthless. Good movie! The acting was sparse, and wasn't really needed in a movie of this type. But the lead role played by Brendan Fletcher was remarkable. He put on a stunning performance with his psycho role. Rampage is pretty simple and you kind of have to admire it for its straightforwardness. It can, at times, read soulless and nihilistic, but I think these criticisms gloss over the film's darker purpose. Overall, it was better than an average. However, the biggest compliment that I can pay to this movie is that it sparked my interest in non-adaptation Uwe Boll movies. This film in really not for everyone. Bill Williamson is a warped, frustrated young man who hates his life and hates society which leads him to be driven over the edge of sanity while keeping his craftyness on. He is in his early twenties, lives with his parents and he works a low-paid job as a mechanic. Psychologically, he is continually bombarded with the problems of the world, by ubiquitous TV sets, radios, and the views of Evan Drince, a left-wing philosopher who seems to be his sole friend. One day, Bill, after being hurt after his parents tell him that it's time he left home, and tired of being victimized by his nasty boss at work, Bill acts upon his plan to reduce the town's population. He believes overcrowding causes the world's problems. Determined to extract revenge upon his small town where he lives, Bill builds himself a full-body suit of Kevlar armor, complete with a ballistic helmet and a paintball mask. One day, Bill dons his suit of Kevlar armor, and goes to town. First he incapacitates the police by car-bombing their headquarters with a bomb-laden van. He then begins to kill the town folk, shooting people at random, including the coffee shop owner with whom he earlier had argued about not preparing the coffee as he ordered. Bill enters a beauty salon to take a rest and have a drink of water from his rampage. But then he kills all of the employees and customers (all of them women) in cold blood because he was forced to remove his paintball mask to have some water. Next, in the film's funniest scene, Bill enters a bingo hall where he is hardly noticed by the elderly and senial people... all playing bingo. Out of pity, Bill does not open fire on the senior citizens playing bingo, but instead orders a sandwich and a drink from the concession stand and then walks out of the building, deciding to let the bingo-playing old people live since their lives will end sooner then most others. A little later, Bill robs a bank, killing some of the employees. Outside the bank he puts on a show by burning fake money, which he had printed up earlier, to show that it is worthless and causes the problems of the world. Bill then goes to the fast-food place and kills the female countergirl whom he insulted earlier over the bad fried chicken he was served the previous day. Bill then drives out of town with a small group of police in pursuit. But Bill has even more out-of-the-blue tricks up his sleave when he sets off some roadside bombs, destroying the police cars, and drives off the road into the nearby forest, with the sheriff and the last surviving cops in chase. But Bill ambushes and kills them all. After the killings, Bill calls Evan, who is in the forest nearby expecting him for a mano-a-mano paintball competition. When he arrives at the forest, Bill apologizes to Evan for having him wait for an hour. He then immobilizes Evan with a stun gun, places a pistol in his hand, and shoots him in the head to simulate suicide. Bill leaves the body of Evan wearing the armor suit, and holding the weapons of the massacre. He leaves the forest and makes his way home, arriving before his parents arrive with horror stories about the killings in town. After listening to his parents, he retires to his bedroom to sleep. In his room, while packing his belongings and stolen bank money, he hears a local television news report that police believe Evan Drince is the dead perpetrator of the killings and the bank robbery. The police have arrested Evan's father, a well-known extremist and political hack whom they blame for influencing him to carry out this killing spree. In the final scene, the deranged Bill leaves the house of his parents, as told. The story of the mass murder concludes with a video recording of Bill announcing his departure on a personal quest to unknown whereabouts, to further reduce the world's population in more mass shootings and to frame more people he befriends to continue on his evil and misanthropic quest.
img]http://images.rottentomatoes.com/images/user/icons/icon13.gif[/img]
Directors Cat
Super Reviewer
½
Bill Williamson: All talk, no action. "Vengeance is Ruthless" When we think of Uwe Boll, we think of a director who is crazy and is seemingly incapable of making a good, worthwhile film. Rampage is something slightly different though. It's actually well made, and the lead, Brendan Fletcher actually gives a pretty good performance. So Rampage isn't another piece of shit from Boll, but actually a pretty good movie. I had a hard time gathering my feelings on this one though. It's entertaining and fairly intelligent at times, but the way it all wraps up seems a little too easy and that's when some glaring holes start to become present.  A 23 year old, Bill, still lives at home with his parents and some weird, crazy anger about him that it seems he is able to hide from everyone. He builds an armored suit for himself and then straps up and goes into town on a bloody "Rampage." The "Rampage" itself is actually handled pretty well. The problems come from lack of character development and from a sloppy ending. This isn't a movie that I would say is worth watching, but as far as mindless entertainment goes; you could do much worse. I don't know if I like this movie or not, but I know I don't hate it. There's the whole moral factor that will certainly turn people off, but if you're willing to just accept that it's a movie, then that won't affect you as much.
Melvin White
Super Reviewer
Rampage Quotes
There are no approved quotes yet for this movie.