The Ramen Girl
(2008)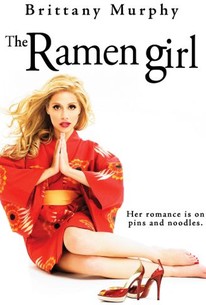 AUDIENCE SCORE
Critic Consensus: No consensus yet.
Movie Info
Abandoned by her boyfriend after following him to Tokyo, an American slacker adrift in a foreign culture witnesses the healing power of food and determines to become a ramen chef. When Abby (Brittany Murphy) arrived in Tokyo, she assumed she was starting a new life with her boyfriend. But that future fades when Abby's boyfriend disappears, leaving her to fend for herself in a city she doesn't understand. In desperate need of a little consolation, the floundering American begins frequenting her neighborhood ramen shop. She feels comfortable there, and recognizes how happy food can make people by the radiant smiles on the customer's faces. Convinced that her true calling is to become a ramen chef, Abby eventually persuades the restaurant's temperamental, tyrannical Japanese chef to become her mentor in the art of making ramen. Though at first their relationship is almost unbearably contentious, the master and his student eventually find a common ground when Abby realizes that the secret ingredient to true ramen is a universe of feeling.
Critic Reviews for The Ramen Girl
Audience Reviews for The Ramen Girl
½
Cute... but a little forced.
First of all I'd like to say I never cared much for Brittany Murphy after she lost all her weight and put it in her lips. But it was sad watching this movie knowing that she's dead. Anyway, this movie was really cute and a romantic fish out of water story. Noodles bring people together.
Alexis Nomm
Super Reviewer
½
I think a large part of the negative reaction comes from expectations about what the film is or should be. First of all, this is not a remake of Tampopo, nor is it about food. It actually borrows more from "Like Water for Chocolate" than Tampopo, but the food subplot is an afterthought and a bit of a distraction. It isn't really a rom-com though there is a romantic interest in there. Nor is it really a East meets West type of thing either though that certainly is an element. It is a story about a young girl, who like many young people have wandered aimlessly expecting that life will just happen for them. The Japanese expectation that a big company will take care of them for life is not that much different from the American expectations. Our ramen girl discovers that such a lack of passion and spirit, even when the ingredients are there and all the right steps are followed will lead to a bland soup. A simple metaphor but done fairly well. Brittany Murphy is surprisingly good as the ramen girl and her interactions with the gruff ramen-nazi (wonderfully played by Toshiyuki Nishida) are hilarious. The development of the relationship between the two of them was very well done. I quite enjoyed this film and recommend it as a light pleasant diversion that brings a smile to your face - like a good bowl of ramen should...
Cassandra Maples
Super Reviewer
The Ramen Girl Quotes
There are no approved quotes yet for this movie.