Rambo: First Blood Part II
(1985)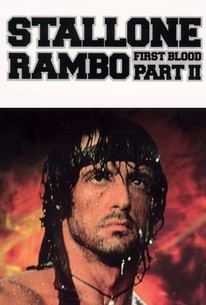 TOMATOMETER
AUDIENCE SCORE
Critic Consensus: First Blood Part II offers enough mayhem to satisfy genre fans, but remains a regressive sequel that turns its once-compelling protagonist into just another muscled action berserker.
Rambo: First Blood Part II Photos
Movie Info
As Rambo (Sylvester Stallone) takes off for the second time to save U.S. POWs and fight at least two armies nearly single-handedly, he may not fly as convincingly as in his first, 1982 appearance, but he certainly lands as a buzz-word for the super-human macho hero. Stallone Rambos his way out of a prison camp with the help of his old Green Beret buddy Trautman (Richard Crenna), who arrives to free him for more active duty. It seems the U.S. government wants him to liberate those POWs - but does it? Rambo's ire reaches explosive levels when it turns out that the whole mission is PR for the American public. Fueled by fury, he rounds up the POWs and the action reaches its own explosive levels as he and a Vietnamese sidekick (Julia Nickson) fend off opposing forces and shepherd the POWs out of Vietnam. Wow.
News & Interviews for Rambo: First Blood Part II
Critic Reviews for Rambo: First Blood Part II
Audience Reviews for Rambo: First Blood Part II
½
I love this sequel, and I don't say that often. Rambo is such an interesting action film character, and we get to know more about him now with this film. You must see it if you're a fan of the first. The story brings him into a much bigger situation as the first, the stakes are upped, and there are really extreme action sequences. Being put back into a warlike setting really suits this character well. We get to see all of his talents. And don't be afraid, this story isn't just action with no story. You can read the story here on the site. It's a rescue with revenge and love and anti-communism, all the great themes of the 80s. And I don't want to give away the end, but it is both sad and satisfying to the audience. I loved this movie.
Far less dramatic than the first one, and with a level of subtlety so low it almost doesn't exist, but this film still has a good amount of heart to it...it's just buried underneath a massive pile of bodies killed in a ridiculously over the top fashion. Even thought the film is light on character development, and strove to be more of a pure action film (one of the most influential and parodied in fact), it is still entertaining, even though it's really just ok, and not all that good (unbelievable and unrealistic action aside). That's a shame too, because there could have been a lot of potential here for something on par with, if not better than the first. Shades of this can be seen throughout, and you can tell they had ideas for that sort of thing, but somewhere down the line something happened and they just instead went for the angle they did. Like I said, it's not really that good, but it is entertaining, and tries to somewhat build on things, even though it mostly relies on silly machismo and mayhem.
Chris Weber
Super Reviewer
½
I really did not care about anything that happened during this film, the script is bland and the story is just an excuse to put John Rambo in another action film. Sure, some of the action scenes are very impressive and had my jaw open, but good action doesn't suffice when I cringe at the dialogue and the over-the-top acting. This film had so many things going for it, because the first film was so great. I feel like the director of this film was full of himself in thinking that any script for a Rambo film would be good. Throughout the film we get a bit more development of John's character, but it was done perfectly in the first film that it just felt unnecessary here. This film really didn't need to be made, but since it exists I watched it for what it was and had a fun time; However, I will probably not be revisiting this one much.
Rambo: First Blood Part II Quotes
There are no approved quotes yet for this movie.