Raising Arizona
(1987)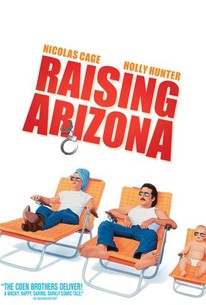 TOMATOMETER
AUDIENCE SCORE
Critic Consensus: A terrifically original, eccentric screwball comedy, Raising Arizona may not be the Coens' most disciplined movie, but it's one of their most purely entertaining.
Movie Info
Combining influences from Tex Avery cartoons to Sam Raimi horror movies to 1940s B-movies, Joel Coen and Ethan Coen followed up the stylish film noir of their debut, Blood Simple (1984), with this frantic screwball comedy. H.I. "Hi" McDonnough (Nicholas Cage) is a philosophical but slightly dim career criminal who has been arrested so often that he gets to know "Ed," short for Edwina (Holly Hunter), the officer who takes his mug shots. Hi takes a shine to Ed and promises to go straight if she marries him. She accepts, and they move to the Arizona desert, where Hi holds down a factory job and blissfully watches the sunsets with Ed. Their serenity is shattered when the couple decides that they want a child and discover that, as Hi puts it, "Ed's womb was a rocky place where my seed could find no purchase." (One of the film's many delights is Hi's unexpectedly flowery dime-novel narration.) Ed goes into a severe depression until she sees an item in the news. Nathan Arizona (Trey Wilson), owner of a chain of unpainted furniture stores, has become the father of quintuplets, and he and his wife joke that they now have more children than they know what to do with. In what seems like a perfect "helps you, helps me" situation, Hi and Ed kidnap one of the Arizona infants, figuring that they'll have a baby and the Arizonas will have less of a burden. ~ Mark Deming, Rovi
News & Interviews for Raising Arizona
Critic Reviews for Raising Arizona
Audience Reviews for Raising Arizona
The inspired dialogue is so hilarious and the absurdities we see here pile up so insanely that this loony comedy turns out to be one of the most delicious and unpredictable of the Coen brothers' entire filmography, with a bunch of excellent performances from an excellent cast.
Carlos Magalhães
Super Reviewer
Mix Looney Tunes, Sam Raimi's 'horror film camera moves', 40s B-movies, and a bit of The Road Warrior, and that's pretty much what you get here with this profoundly absurd farcical comedy from Joel and Ethan Coen. H.I. McDonnough is a non-violent stick-up man who falls in love with mugshot photographer Edwina "Ed". When they find out she's unable to bear children, the two decide to kidnap 1/5 of a set of quintuplets belonging to an unpainted furniture mogul named Nathan Arizona. What follows is a mad cap romp, especially when a set of swingers, two of H.I.'s prison buddies, and an apocalyptic biker get thrown in the mix. The film is absolutely ridiculous and absurd, and the whole is less than the sum of its parts, but it is cohesive in and of itself. It's also really weird, but quite funny, too. This is easily the wackiest film that the Coens have made, and the highlight is an extended chase involving cops, dogs, a nutty soundtrack, and lots of frenetic camerawork, all because of a case of stolen Huggies. The casting is deliriously perfect, and Nicolas Cage is a lot of fun as H.I. Holly Hunter is very funny and sweet as Ed, John Goodman and William Forsythe are a delight as the prison buddies, and Frances McDormand is an overacting hoot as one of the swingers. Randall "Tex" Cobb is also great as the biker. All in all, this is a good film, but not a great one, at least not to me. It's uneven, and really nutty, but any film that had a major influence of My Name is Earl is worth checking out. Oh yeah, and of course the music and cinematography are dynamite as well. But since it's a Coen Bros. film that should go without saying.
Chris Weber
Super Reviewer
½
One of the most criative and entertaining Coen's brothers film.
Lucas Martins
Super Reviewer
Raising Arizona Quotes
There are no approved quotes yet for this movie.