Raise Ravens (Cria Cuervos)
(1976)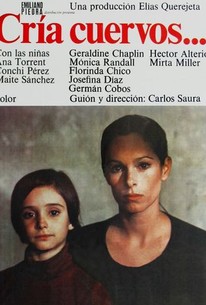 Raise Ravens (Cria Cuervos) Photos
Movie Info
A haunting study of a girl's traumatic childhood.
News & Interviews for Raise Ravens (Cria Cuervos)
Critic Reviews for Raise Ravens (Cria Cuervos)
Audience Reviews for Raise Ravens (Cria Cuervos)
½
A devastating drama of profound political symbolism in which even the most deceptively trivial scenes have a meaning, and it is wonderful to see how it is shown from the point of view of Ana's seemingly confused memories as they jump between different moments of her bleak childhood.
Carlos Magalhães
Super Reviewer
"Cría cuervos y te sacarán los ojos." This stunningly directed Spanish classic is a perverse, dark and funny portrayal of childhood.
Matheus Carvalho
Super Reviewer
Astonishing, powerful, quiet classic. As far as I've seen, it might represent the pinnacle of 70s Spanish cinema.

An adult Ana reminisces about the events of her childhood and their consequences, especifically her mother's death and her turbulent relationship with her father.

I can say that without a doubt Cria Cuervos is the most realistic depiction of sadness and nostalgia I have ever seen. Ana Torrent as the young Ana brings an emotional credibility to her characters that is without precedent in child performances. She doesn't limit herself to putting on a sad face because her mother died. Ana continues to see (imagine) her mother, and the contrast between the bliss of these illusions/memories of happyday-to-day life with her mother, and the awfully lonely reality that she experiences is literally heartbreaking.

Geraldine Chaplin plays Ana as an adult and also Ana's mother. I can barely remember a performance or a scene as mortifying as Ana's mother agonizing in bed shortly before her death. Chaplin plays to perfection an unhappy wife, purposefully nonchalant about her husband's infidelities, with an immense need for love. Little Ana remembers her mother's pain and most likely what brought her the disease that killed her, and so she develops a horrible hate for the people who are left alive.

The best thing about Cria, though, is that Carlos Saura doesn't idealize or soften the real, raw, ugly process of mourn that Ana has to undergo: the things she misses, the things she remembers, the things she clings to, the search for new people to love. Also, after her father dies, Ana and her 2 sisters are left under her aunt's care, and Saura doesn't try to maker her into saint, or a devil. She is only a woman dealing with a sudden responsiblity, and making mistakes, out of nervousness or inexperience, that mark Ana's life forever. That's real life -things happen that you can't predict, or control. But it also goes on, and that's what happens here.

The cinematography is beautiful, haunting, as is that eternal theme song that is often played throughout. Ana Torrent is even better here than in The Spirit of the Beehive, and Geraldine Chaplin is wonderfully adorable and melancholy. Beware people with a weak stomach or who cry easily. Cria Cuervos is a masterpiece of cinema, the closest portrayal of mourn on film.
Raise Ravens (Cria Cuervos) Quotes
There are no approved quotes yet for this movie.