Gokudô kuroshakai (Criminal Underworld: Rainy Dog)
(1997)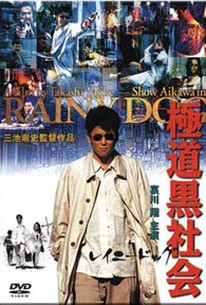 AUDIENCE SCORE
Critic Consensus: No consensus yet.
Movie Info
Takashi Miike directs this brooding, hard-boiled gangster drama set in monsoon-soaked Taiwan. Yuji (played by Miike regular Sho Aikawa) ekes out an existence working as a Japanese hit man for a gang in Taipei. A laconic character with a lizard-like gaze, he seems to have little use for other people -- even for his unbalanced godfather who calls him his son. All he is interested in is the money. His life takes a sudden change when a former lover appears at his doorstep, drops off a boy (He Jianxian) she claims is his, and beats a hasty retreat. With the child in tow, Yuji carries out his business -- shooting a mobster from a rival gang as he eats dinner with his family. After receiving his fee, he takes home a comely young hooker named Lily (Chen Xianmei). While they are getting to know one another, the boy sleeps on a piece of cardboard in the rain, snuggling up to a stray dog. Amused at the kid's tenacity, Yuji eventually throws the boy a towel. Later, Yuji stumbles upon a briefcase full of money while taking out a rival godfather. With the cash in hand, he plots to take Lily and the boy someplace better. In the meantime, the trio flees to an isolated beach in central Taiwan, hoping to escape the bloodthirsty gangster on their tail. Waiting for the interminable rain to cease, they hold up in a World War II-era pillbox. Something resembling family develops between the three. When the rain stops, they are forced to continue their escape. ~ Jonathan Crow, Rovi
Critic Reviews for Gokudô kuroshakai (Criminal Underworld: Rainy Dog)
Audience Reviews for Gokudô kuroshakai (Criminal Underworld: Rainy Dog)
Rainy Dog is the second film in Takashi Miike's Black Society trilogy and it is also a more milder Yakuza film from him.
Now, while this is the second movie, there is no relation, other than the dark Yakuza theme, between this one and Shinjuku Triad Society. It is a different story with a different cast of characters.
The story is pretty weak as this movie focuses more on character. The film does get off to a decent start, however a good portion in the middle of this 95 minute story is bland and uneventful. The minimal dialogue from the main character doesn't help. The final 5-10 minutes deliver a good ending though. A Kill Bill inspiration perhaps?
The violence is mild, despite all the shootings, and the nudity is non-existent. I only bring this up, since this is a period where Miike's strong graphical nature is on the loose and this film seems to hold back on that.
The characters are unemotional, with the exception of Tomorowo Taguchi, who plays a different character from the first Black Society film. He steals the spotlight, despite having very little airtime. Sho Aikawa is a fitting contract killer, but as previously mentioned, he is pretty bland.
Some may find this Yakuza thriller interesting, but Rainy Dog is one film that needs a more eventful approach.
This, being the second film in Miike's THE BLACK SOCIETY TRILOGY, plays very close to Takeshi Kitano's take on the yakuza lifestyle. Sho Aikawa is the broken, wandering, and disconnected criminal who is bored with the lifestyle and discovers he has a son. Similar themes throughout the film remind me of Hana-Bi, in which the lead character sets out on a sad vacation while welcoming death as a release from the lifestyle. With less story and less dialogue than its' trilogy counterparts, this is my favorite of the three. It's Miike's films, like Rainy Dog, that set him apart from from being labeled as a Johnny-one-note.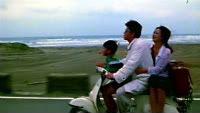 El Hombre Invisible
Super Reviewer
Tomorowo Taguchi almost steals the whole thing from Aikawa. The script is very limited, but Miike manages to squeeze the most out of the less.
Tsubaki Sanjuro
Super Reviewer
Gokudô kuroshakai (Criminal Underworld: Rainy Dog) Quotes
There are no approved quotes yet for this movie.