Rain Without Thunder
(1992)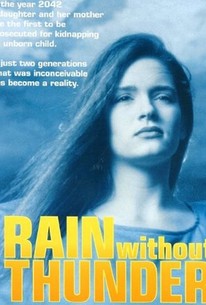 Rain Without Thunder Photos
Movie Info
Rain Without Thunder is a "pro-choice" tract, expertly packaged in the form of speculative fiction. In a futuristic society, abortion is a crime punishable by a harsh prison term, and all female sexual activity is electronically monitored. When young Ali Thomas chooses not to bring her unborn child to term, she is thrown into jail. And since her mother (Betty Buckley) had driven Thomas to the abortionist, she too is arrested--charged with kidnapping the fetus! The filmmakers wear their ideology on both sleeves, but one cannot deny that Rain Without Thunder drives its point home forcefully.
Audience Reviews for Rain Without Thunder
A bit preachy at times, this mockumentary imagined a future that is chillingly close to the present state of the abortion debate. It imagines a time when a woman can be imprisoned for having an abortion, a state of affairs brought about by passage of the 28th amendment, defining life as beginning at fertilization, thereby banning any and all abortions, and all types of contraception other than barrier methods. Sound familiar? And this was done in 1993! Interesting, but maybe a little too much pontificating and not enough action to keep one's interest riveted.
Mark Abell
Super Reviewer
Rain Without Thunder Quotes
There are no approved quotes yet for this movie.