Radio Days
(1987)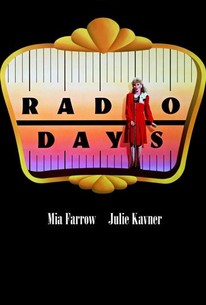 Movie Info
Woody Allen's gentle and nostalgic tribute to the glory days of radio and coming-of-age during World War II plays like Fellini's Amarcord filtered through Neil Simon. The nominal star is Seth Green as Joe, a teenage Jewish boy, growing up with a house full of relatives in Brooklyn. Allen cuts between Joe's working class neighborhood of Rockaway Beach, Queens, and the glittery and glamorous world of radio in Manhattan. Joe's favorite radio hero is The Masked Avenger (Wallace Shawn), and he dreams of getting The Masked Avenger Secret Decoder Ring. Using all the money they have collected for Israel, Joe and his friends buy the ring, much to the shock of his mother (Julie Kavner) and the local rabbi. His father (Michael Tucker), a business failure embarrassed to be seen driving a taxi, is an ineffective and distant man. His uncle Abe (Josh Mostel) is obsessed with eating. His Aunt Bea (Dianne Wiest) is obsessed with getting married. All together, these relatives make up a rather chaotic life in Brooklyn for Joe. Interspersed with these family relations are vignettes of radio lore --from the cigarette girl (Mia Farrow) who wants to strike it big in radio, to the "Name That Tune" jackpot telephone call answered by a burglar, who guesses the right answer and wins the victimized homeowners a cornucopia of valuable prizes.
News & Interviews for Radio Days
Critic Reviews for Radio Days
Audience Reviews for Radio Days
Remember the good ole days before the internet? Before even television? Radio was the dominant technology and Allen nostalgically recalls not only the simplicity of those times but how the emerging tech was already shaping the dreams, thoughts, and thus the lives of the listeners. The subject is really too big for the time alloted and so the overall feeling is scattered, but the idea is there, and very nearly resonant.
Kevin M. Williams
Super Reviewer
A collage of the ordinary, the golden fame of radio, and the innocence of childhood, Radio Days is one of the finest examples of Allen's fascination with nostalgia. Set in Brooklyn, which was Allen's childhood home in reality, the film features the antics of an extended Jewish family living under one roof, and the lives of the stars they listen to nightly on the radio. Much of this is free form memory, narrated by Allen himself (who never appears in the actual film). It stays true to its time period, flitting in between the glamorous world of New York City and then coming back to earth and settling in Rockaway during the 1940s. The family includes grandparents, aunts, uncles, and the nuclear family, still not intact by this time. Allen's life, however fictionalized for this film, is predominant, while also fictionalizing real people from that time period, including Mia Farrow as a marginalized Hedda Hopper, and a similarly fated baseball player for the Chicago White Sox. The stories flow in and out of every type of world, held together by the frank narration of Allen, who comes back to people to reflect on their strides toward fame, or bringing their family together. His mother wants to break from the rest of her household and have a baby, the son wants to only grow up and fight for something, anything. The father is a dearly loved figure who is shown as tender and kindhearted in one vignette, and in the next shows himself as a man of his time. There are some really character driven moments but in the same breath it's tinged with the uncertainty of memory and broad reflection. So much about this is feel good, and doesn't linger on the obvious heavy implications of mob ties, war, family drama, or failure at something you dearly want. The cast is brilliant, and includes some of Allen's favorites, including Mia Farrow, Dianne Weist, and a cameo from Diane Keaton as a New Year's Eve singer, the only time Keaton and Farrow appear onscreen together. Everything about this is beautiful, nostalgic, and certainly funny. The only ill thing I can say is that I wish it was longer so I could keep watching the imperfect family and the country change around them.
Spencer S.
Super Reviewer
½
A terrific nostalgic tribute. One of the best works by Allen.
Lucas Martins
Super Reviewer
Radio Days Quotes
There are no approved quotes yet for this movie.