Quiz Show
(1994)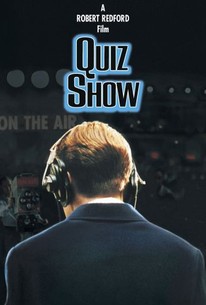 TOMATOMETER
AUDIENCE SCORE
Critic Consensus: Robert Redford refracts the sociopolitical and moral issues posed by the subject material through a purely entertaining, well-acted lens.
Movie Info
These days Television game shows are strictly regulated to ensure that no cheating or discrimination goes on behind the scenes. But it has not always been so. "Quiz Show" tells the story of the discrimination, pay-offs, and resulting cover-up behind the scenes of "Twenty One," the most popular intellectual game show in 1958. The trouble begins when the show's producer Dan Enright pays winning contestant Herbie Stempel, a Jewish graduate student from Queens, to lose in favor of Columbia literature instructor Charles Van Doren, a handsome, intellectual WASP who came from one of the U.S.'s most distinguished families. Enright then persuades Van Doren to allow his staff to provide Van Doren with the answers before each show. Van Doren becomes a national hero and a champion for intellectualism. Enter Dick Godwin, a Harvard graduate working for the House-sub committee on Legislative Oversight. He suspects a fraud and goes looking for proof. He finds it in Stempel who finally admits that he was paid to lose. Thus the scandal erupts.
News & Interviews for Quiz Show
Critic Reviews for Quiz Show
Audience Reviews for Quiz Show
½
With strong performances from turturro and fiennes, Quiz show is a great film that has lasted the test of time.
½
Based on true events that transpired during NBC's rise to prominence with televised quiz shows in 1958, Quiz Show is an enrapturing tale of television gone wild and its tendril influence on the American population. Though Quiz Show doesn't shine an infracted light on television and the corruption and lack of regulation directly, it does raise a lot of questions about what we're willing to believe in order to stay entertained. In an era that caters to the Kardashian clan and other reality blights; this film draws a lot of parallels to modern situations and even predicts our nation's complacency in forms of television that are neither true nor lacking in debilitation. Though quiz shows in the fifties didn't hurt anyone and lent to education, they were also based on enjoyment of the American public, therefore only letting who they wanted win based on biased beliefs. The story covers a rigged game and the prominence of Charles Van Doren, an instructor at Columbia who was supplied the answers, winning a considerable amount of money while selling the product Geritol and giving the show Twenty-One high viewership. The film is very emotional and brings up the questions of what is truth, what are the public being led to believe in order for big wigs to win out financially, and should we trust the box in our living rooms over what we know to be true. Though it's an amazing story and a turning point in advertising taking over television and influencing all new forms of media, it's the tension over the investigation that keeps this film thrilling. Ralph Fiennes is the intellectual pretty boy, a role that he was born to play, and though he usually grates on my nerves, here he is neither condescending nor problematic to the rest of the story. The casting of the entire film was spot on. Rob Morrow as the investigating government agent who likes Van Doren but also has to bring down all the people around him was perfect, with his easy accent and intense scrutiny of the indiscretion around him. Turturro does irritate like a bothersome gnat, while also being pitiful and naïve. This film is so sickeningly good it makes me cringe to think about everything yet it's also so important. Certainly my favorite Redford directed film.
Spencer S.
Super Reviewer
½
An under-rated gem of the 90's that features outstanding performances from its ensemble cast, and a sensational gutting and ravaging of the television industry concerning a popular 50's quiz game show and the internal corruption of how the studio has certain contestants fix matches. Robert Redford's fantastic detailing of his characters and plot keeps this thing clicking at a fast pace, and thanks to fine turns from John Turturro (as a bitter ex-contestant who is intent on bringing the studio down after they wrongfully deceive him), Ralph Fiennes (as a hot-shot college professor who can not be beaten), and Paul Scofield (as Fiennes very accomplished, caring father) this story is anchored masterfully all the way to its end. The only thing it is really missing is the dramatic punch its finale sets us up for, but being that Redford is aiming for subtlety, I can understand why he decided to not potentially overplay his cards. Overall, a fantastic exercise in moral dilemmas and the seedy underbelly of the television industry, even at its seemingly rich, innocent beginnings.
Dan Schultz
Super Reviewer
Quiz Show Quotes
There are no approved quotes yet for this movie.