The Quiet Man
(1952)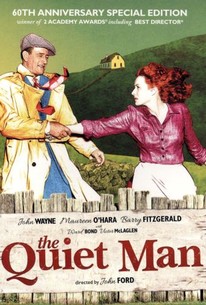 TOMATOMETER
AUDIENCE SCORE
Critic Consensus: Director John Ford and star John Wayne depart the Western for the Irish countryside, and the result is a beautifully photographed, often comedic romance.
Movie Info
Returning to the Ireland of his birth, director John Ford fashions a irresistable valentine to the "Auld Sod" in The Quiet Man. Irish-American boxer John Wayne, recovering from the trauma of having accidentally killed a man in the ring, arrives in the Irish village where he was born. Hoping to bury his past and settle down to a life of tranquility, Wayne has purchased the home of his birth from wealthy local widow Mildred Natwick, a transaction that has incurred the wrath of pugnacious squire Victor McLaglen, who coveted the property for himself. By and by, Wayne falls in love with McLaglen's beautiful, high-spirited sister Maureen O'Hara. Her insistence that Wayne conduct his courtship in a proper Irish manner-with puckish matchmaker Barry Fitzgerald along for the ride as "chaperone"--is but one obstacle to their future happiness: the other is McLaglen, who spitefully refuses to give his consent to his sister's marriage, or to honor the tradition of paying a dowry to Wayne. Wayne could care less about dowries, but the tradition-bound Maureen refuses to consummate her marriage until McLaglen pays up. Under any other circumstances, Wayne would have punched out the bullying McLaglen long ago, but ever since his tragedy in the ring he has been reluctant to fight. Local priest Ward Bond conspires with several locals to trick McLaglen into paying his due. They intimate that widow Natwick, for whom McLaglen carries a torch, will marry the old brute if he'll give his consent to the marriage and fork over the dowry. But McLaglen finds he's been tricked and the situation remains at a standoff, with the frustrated Wayne locked out of his wife's bedroom. When Maureen accuses him of being a coward and walks out on him, our hero can stand no more. He marches Maureen to McLaglen's home, indicating that he plans to whale the tar out of both brother and sister. As a huge and appreciative crowd gathers the cornered McLaglen truculently tosses the money in Wayne's direction. Big John hands the bills to Maureen, just as she knew he would, and she ceremoniously destroys the money, just as he knew je would. Having proven their love for each other, there is nothing left for Wayne and Maureen to do but head home and perform their nuptual duties. But first there's the matter of giving McLaglen the thrashing he deserves....and it is this spectacular donnybrook, which covers several acres of land and at least two "pit stops" so that the combatants can quench their thirst, which convinces Natwick that the defeated McLaglen is truly worthy of her love (her logic is on a par with everyone else's in the film!) Though it tends to perpetuate the myth that all true Irishmen live only to fight, drink and make love, The Quiet Man is grand and glorious fun, enacted with gusto by a largely Hibernian cast and directed with loving care by a master of his craft. Written by Frank Nugent and graced with a lilting musical score by Victor Young, the film won Oscars for Archie Stout's Technicolor photography and for John Ford's direction-a real coup for "poverty row" Republic Pictures. If you haven't already luxuriated in this wonderful film, be sure to catch in on the tube next St. Patrick's Day. ~ Hal Erickson, Rovi
News & Interviews for The Quiet Man
Critic Reviews for The Quiet Man
Audience Reviews for The Quiet Man
An Irish-American boxer retires to Ireland where he buys a plot of land and woos a local girl. Perhaps I *gasp* don't like John Wayne. His strutting and posturing, long the quintessence of manhood, seem to me the vain attitudes of a caricature rather than a character. I understand that old film actors concentrated more on cultivating a persona than a character for an individual film, but Wayne's persona is neither compelling nor complex. The film's plot is contrived. I followed the story with skepticism throughout much of it until it devolved into the most ludicrous fight scene that I could imagine, and then I just rolled my eyes and waited for it to be over. What strikes me most is the film's misogyny. Mary's insistence for her own money and all the male characters' resistance bespeaks of a lack of male respect for female identity and self-sufficiency. The characters and the film itself wreak of over-whelming male superiority, and when Mary agrees to serve them dinner, I couldn't help but conclude that this was a film condemned to its time. Overall, maybe there's a film that will make me like John Wayne, but this isn't it.
Jim Hunter
Super Reviewer
Because of the film course I am taking I am forced to watch these old, boring movies. Usually anything before 1970 I can't handle; rarely there are exceptions. "The Quiet Man" is an unfunny mess of a film with a ridiculous ending. The landscapes are nice but if I want that I can just watch Discovery Channel.
Eric Shankle
Super Reviewer
I've seen this film many times over the years, and it has really stood out to me as being one of Ford's best films. Primarily known for his westerns, I love how this one is more atypical. It also helps that I've got a fair amount of Irish ancestry in me, thus can better appreciate this being a wonderful love letter to The Emerald Isle. The story is that of Irish American boxer Sean Thornton who returns to the small Irish village of his birth. Distraught after having accidentally killed a man in the ring, all he wants is to live out the rest of his life peacefully and quietly on his family's land, which is no easy task, as he soon incurs the ire of the squire- a local brute who was wanting the land for himself. Not only that, but Sean falls in love with the squire's sister, a feverishly traditional and fiery woman who insists that her and Sean's courtship be by the books, which includes receiving a dowry...that her brother refuses to pay. The couple get married, but until that dowry is received, the marriage absolutely won't be consummated. What follows is a gloriously jolly romp that shows Sean trying to prove he's a real man without always having to resort to violence, which he is of course reluctant to do given his past. Yes, the movie does perpetuate a few stereotypes about Irish men loving to drink and fight, but it could be far worse. The film has a fun set up, great supporting characters, and, since it was shot on location, it features Ireland in all of its glory with some truly marvelous cinematography. The music is also quite nice as well, and it's not surprising that this has become THE movie to watch every St. Patrick's Day as a result. Wayne gives a fine performance, and it is nice seeing him in a role like this where he actual does have to try to act and show off his dramatic chops. He's successful too. Maureen O'Hara basically cemented her career here as Mary Kate the love interest, and for better or worse, she's the embodiment of a gorgeous prototypical Irish lass. Victor McLaglen is great as her bullying brother, and the great aforementioned supporting characters are superbly played by Ward Bond, Barry Fitzgerald, and Mildred Natwick among others. Definitely give this one a watch. It's got drama, romance, comedy, action, and really leaves you feeling great inside.
Chris Weber
Super Reviewer
The Quiet Man Quotes
There are no approved quotes yet for this movie.