Quiet City
(2007)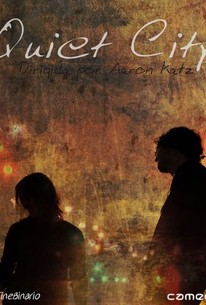 Movie Info
Jamie's lost. She's in New York to see a friend, but the friend is nowhere to be found. Charlie just quit his job and isn't sure what's next. Their paths cross late at night on an empty subway platform, and an unlikely connection is formed. Together they share 24 hours drifting from diners, to city parks, to a party deep in the heart of Brooklyn.
Critic Reviews for Quiet City
Audience Reviews for Quiet City
Couple meet by chance, they talk, go to the park, visit friends, go to an art gallery and then a party. That's all there is to it, plenty of dialogue which keeps the interest as does the interaction of the leads though it still feels forced and not so natural. This may be down to the awkwardness of the characters themselves. Cheap and cheerful it's a very simple film that some would argue shouldn't even be classified as film. It's more like forced realism or an orchestrated documentary. This is what real reality TV would be like if you took away the stupid "plots", manipulative editing and dodgy soundtracks.
Luke Baldock
Super Reviewer
Quiet City Quotes
There are no approved quotes yet for this movie.