Queen of Katwe
(2016)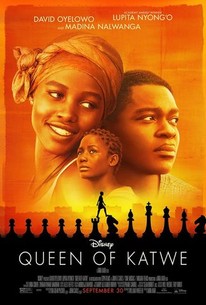 TOMATOMETER
AUDIENCE SCORE
Critic Consensus: Queen of Katwe is a feel-good movie of uncommon smarts and passion, and outstanding performances by Lupita Nyong'o and David Oyelowo help to elevate the film past its cliches.
Movie Info
"Queen of Katwe" is the colorful true story of a young girl selling corn on the streets of rural Uganda whose world rapidly changes when she is introduced to the game of chess, and, as a result of the support she receives from her family and community, is instilled with the confidence and determination she needs to pursue her dream of becoming an international chess champion. Directed by Mira Nair ("Monsoon Wedding") from a screenplay by William Wheeler ("The Hoax") based on the book by Tim Crothers, "Queen of Katwe" is produced by Lydia Dean Pilcher ("The Darjeeling Limited") and John Carls ("Where the Wild Things Are") with Will Weiske and Troy Buder serving as executive producers. The film stars Golden Globe (R) nominee David Oyelowo ("Selma"), Oscar (R) winner and Tony Award (R) nominee Lupita Nyong'o ("12 Years a Slave") and newcomer Madina Nalwanga. For 10-year-old Phiona Mutesi (Nalwanga) and her family, life in the impoverished slum of Katwe in Kampala, Uganda, is a constant struggle. Her mother, Harriet (Nyong'o), is fiercely determined to take care of her family and works tirelessly selling vegetables in the market to make sure her children are fed and have a roof over their heads. When Phiona meets Robert Katende (Oyelowo), a soccer player turned missionary who teaches local children chess, she is captivated. Chess requires a good deal of concentration, strategic thinking and risk taking, all skills which are applicable in everyday life, and Katende hopes to empower youth with the game. Phiona is impressed by the intelligence and wit the game requires and immediately shows potential. Recognizing Phiona's natural aptitude for chess and the fighting spirit she's inherited from her mother, Katende begins to mentor her, but Harriet is reluctant to provide any encouragement, not wanting to see her daughter disappointed. As Phiona begins to succeed in local chess competitions, Katende teaches her to read and write in order to pursue schooling. She quickly advances through the ranks in tournaments, but breaks away from her family to focus on her own life. Her mother eventually realizes that Phiona has a chance to excel and teams up with Katende to help her fulfill her extraordinary potential, escape a life of poverty and save her family. Disney's "Queen of Katwe" will open in U.S. theaters on September 23, 2016.
News & Interviews for Queen of Katwe
Critic Reviews for Queen of Katwe
Audience Reviews for Queen of Katwe
½
Queen of Katwe is authentic and pure moviemaking. For a Disney production, it is surprisingly grounded in its earthy tone and its harsh realities of poverty. Newcomer Madina Nalwanga is thoroughly engaging as Phiona even if the script occasionally envisions her character in a more egotistical light than is necessary. This flaw eventually works itself out in the end. Lupita Nyong'o and David Oyelowo are both touching and bring an air of maturity to the proceedings. What is so moving about Katwe is its celebration of a minority often overlooked in film. Its credits clips show the real life humans standing with their actors in a sense of unity and respect that warms the heart. While Queen of Katwe is a rather unsurprising film, its warm and humble atmosphere eventually gets to you. Rating: 73
½
Disney has had their share of flops, but when it comes to film studios, they have been more than pleasing their audiences lately, with critics and audiences loving their incarnation of Star Wars or their live-action remakes in The Jungle Book, Cinderella, or the upcoming Beauty and the Beast, which will surely be a billion dollar box office winner. Aside from their famous products, I have always admired their secondary films each year. With films like Million Dollar Arm or Miracle, they have a knack for true stories as well. Although most of them are fluff for families to enjoy together, they've always had a certain charm. Queen of Katwe on the other hand, may just be the best true story they have told to date. Sadly, nobody went out of their way to find a theatre playing it. Here is why I believe Queen of Katwe may just be the most overlooked film of 2016. David Oyelowo and Lupita Nyongo'of Katwe follows Phiona, a young girl in a family living without a home in Uganda. Robert Katende, the town Futball (Soccer) coach, notices her skills in the game of Chess. promising her mother that he will be able to put her into school if she does well, he brings her into school competitions, which will eventually have her competing across the globe. This is a very moving film that explores how hard some people have it in this world, but also how we can both be happy with everything and nothing at all times. The sad part is that a film like this doesn't attract a large audience and therefore failed at the box office. If you have yet to see Queen of Katwe or even hear about it, I highly recommend checking it out. David Oyelowo and Lupita Nyong'o are show stealers here, and while they may take the focus away from the central character, their times to shine are well worth it. That being said, Madina Nalwanga, who portrays the character of Phiona, is absolutely break-out worthy. The way she is able to react to ceratin elements throughout the film, whether it is the environment around her or how she is supposed to act in certain institutions, her performances gleams off the screen. Queen of Katwe is a very powerful and satisfying story that is elevated even higher by the performances at hand. This cast made the pacing go very, very quickly. Directed by Mira Nair, who is no stranger to filmmaking, but definitely that of American Cinema, directs with passion here. In her first ever English-speaking film, she is still able to capture the beautiful landscapes of Uganda, display the hardships of life, and although the film feels slightly polished, it's easily one of Disney's riskiest projects. I found myself engaged in every moment and the scenery felt as if I had been watching a documentary on these people. After seeing the comparisons in the credits, they did a damn fine job in the casting department. Queen of Katwe is fantastic for all of these reasons and more. In the end, a film like this all comes down to whether or not it was effective. By the end of Queen of Katwe, I was in tears as to how well this film was executed. I loved every second of this film, even though it does seem to skip over a few key moments. I could tell that there were story elements that the writers chose to gloss over. That being said, this is far better than any of the recent B-movie true stories that Disney has produced in recent memory. Well-directed, well-acted, and inspiringly put together, Queen of Katwe is a terrific film from start to finish. I do wish the film was 20 minutes longer in order to compensate for the obvious story jumps, but that is just a minor issue. Please, do yourself a favour and check out Queen of Katwe.
From a technical point of view, Queen of Katwe is not a resounding success. There is bad audio, continuity errors, hammy dialogue, some very bizarre choices in cinematography and the occasional scene of poor acting. The story however (while following a fairly predictable family-friendly line) is totally engrossing. Chess may not be the most engaging spectator sport, but the journey of lead-character Phiona is a thorough one, and an intriguing side-step away from the usual Disney setting. David Oyelowo is particularly worth looking out for. He (unsurprisingly) gives a fantastic performance.
Queen of Katwe Quotes
There are no approved quotes yet for this movie.