Queen of Blood
(1966)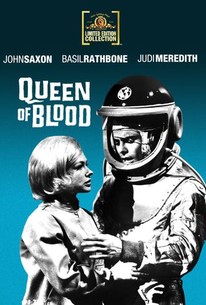 Movie Info
Shot on a miniscule $50,000 budget, and including footage from a 1959 Russian film that was later purchased by Roger Corman, this science fiction feature finds a tiny planet slowly dying. With the inhabitants in danger of perishing, some kind-hearted astronauts bring a green-blooded female alien back to Earth. The extraterrestrial shows her gratitude by going wild for human blood in the fashion of a blood-sucking vampire. John Saxon, Basil Rathbone and Dennis Hopper are some of the actors sentenced by their vindictive agents to appear in this 1966 film.
Critic Reviews for Queen of Blood
Audience Reviews for Queen of Blood
½
Goes directly to my "So Bad It's Good" list. Like something Ed Wood might have done, had he actually had a budget (and better stock footage). The story is predictable, the acting is as would be expected (fun seeing young Dennis Hopper & John Saxon). While there is actually some fun/kitchy set & costume designs here...it seems all of their time and energy was spent on trying to make things seem "futuristic" (it is meant to take place in 1990 after all!) and not enough of story of plot development. Still, it's kinda fun, though ultimately anti-climactic.
Queen of Blood Quotes
There are no approved quotes yet for this movie.