Quartet
(1981)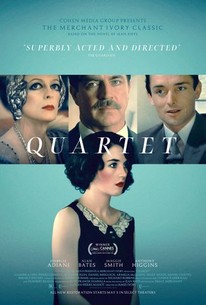 Movie Info
No relation to the 1949 Somerset Maugham "omnibus" film of the same name, 1981's Quartet is based on the roman a clef by Jean Rhys. Though the names are changed, it is clearly the story of Rhys' romance with Ford Maddox Ford in 1920s Paris. The titular quartet consists of novelist Isabelle Adjani, her Polish husband Anthony Higgins, wealthy philanderer Alan Bates and Bates' artist wife Maggie Smith. Though she's been indulgent of Higgins's past indiscretions, Smith isn't keen on her husband carrying on an affair with Adjani under their own roof. Meanwhile, Higgins sits in prison, jailed for his various petty thefts. Once Higgins is released, he learns about the Bates-Adjani-Smith contretemps. When the dust settles, it is Adjani who suffers the most.
Critic Reviews for Quartet
Audience Reviews for Quartet
[font=Century Gothic]In "Quartet," it is Paris, 1927, and Marya's(Isabelle Adjani) husband, Stephan(Anthony Higgins), an art dealer, has just been sentenced to a year of jail and expulsion from France for theft, leaving her with no visible means of support.(Marya had once tried to be a showgirl but it did not work out.) A wealthy couple of English art patrons, Lois(Maggie Smith) and H.J.(Alan Bates), offer to take her in, even though Lois knows so little about her. But H.J. knows her well enough to put his hand on her knee...Marya agrees even though she is warned by a friend about a possible scandal involving them.[/font] [font=Century Gothic][/font] [font=Century Gothic]"Quartet" is not a bad movie and much less polite than the usual Merchant Ivory production. There is even a bit of bite in this tale of expatriates in Paris, all taking from the city but giving nothing in return. Lois and H.J. act like they are slumming but are wealthy enough to exploit the city for their own purposes. Stephan is selling French art treasures to collectors abroad. And Marya is at their mercy. So, you can see, there are definitely elements of an intriguing and provocative movie in place but it never quite comes together due to a lack of boldness, along with pedestrian directing and editing. [/font]
Quartet Quotes
There are no approved quotes yet for this movie.