Python
(2001)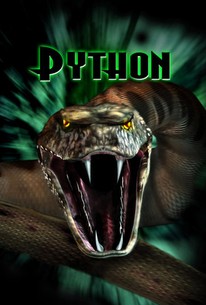 AUDIENCE SCORE
Critic Consensus: No consensus yet.
Movie Info
One seriously large snake makes for a staggering body count in this horror thriller. Dr. Anton Rudolph (Robert Englund) is a scientist who has spent years breeding and perfecting the ideal living weapon -- a gigantic python that's 60 feet long and can swallow nearly anything in its path. Rudolph is transporting his new creation by air when their plane crashes near a small town and the mutant snake escapes. Rudolph is forced to team up with Bart Parker (Casper Van Dien), a military security expert, to round up the snake, but in the meantime, more than a few locals are pointing fingers at eccentric John Cooper (Frayne Rosenoff), who has a fondness for snakes and a bad reputation with the local cops. Python also features supporting performances from Jenny McCarthy and Wil Wheaton.
Critic Reviews for Python
Audience Reviews for Python
Python is a mediocre, yet somewhat entertaining B movie. The concept behind this film is pretty interesting. I think that Python could have been a much better horror film if it would have been released by a big studio, had a more developed story, better actors (aside from Robert Englund) this film could have been something intense. However the film is clearly a low budget exercise in terror, and it doesn't quite succeed in pulling off the terror. If you've seen films such as Anaconda, then you've seen this film before. There's nothing new or extremely thrilling about this film. The story is clichéd and predictable. The film could have been much better than it is, but unfortunately, Python doesn't deliver anything truly horrifying due to the fact that we know what's going to happen next. As far as B movie movies are concerned, Python is very forgettable. The idea might've been good, and it is interesting. But overall it's a very poorly done and developed idea. Python does manage to be slightly entertaining, but overall fails to be an effective horror film. The film more silly than anything else and the film looks very cheap. Not even Robert Englund could make this film work, and the rest of the cast is pretty bad as well. Starship Troopers actor Casper Van Dien stars in this film as well, and quickly faded into obscurity soon after. His performance in the film doesn't do anything to elevate this film or save it from its mediocrity. You're not missing out on anything great in Python. The concept has been explored so many times before and it's been done better before.
I'd really like to know who were the mentally retarded critics that said this movie was 'as scary as Halloween & A Nightmare on Elm Street'. The special effects in this movie were complete crap for their own time, & for a 'made-for-TV-film'. The CGI snake in here was terrible. There were few points where it looks a little believable (emphasis no little), but most of the time, it had terrible CGI. I could have done a better job on a giant CGI snake using 3DS MAX. As for the acting, don't get me started. NO ONE in this film was a decently acting. I don't know what was going through Robert Englund's mind when he decided to play a part in this 'film'. He was HORRIBLE in this movie. As for Casper Van Dien, he's not a good actor, at all. Well, he 'was' in "Dracula 3000", the worst vampire movie ever made, where he was a complete joke (& again, a terrible actor). Casper is only in that movie for his looks & getting more attention. This movie casts the best-looking cast money could buy (well, except for Dana Barron), but even so, everyone was a terrible actor. Even hot babe Jenny McCarthy wasn't taking her role seriously. She practically wanted that snake to kill her. The acting in this movie makes Jennifer Lopez's acting in "Anaconda" look like an Oscar-worthy performance. The dialogue in here was just as bad a joke as the acting. And the worst dialogue was in that scene where Jenny McCarthy was 'interested' in buying the house. The jokes in there were so predictable & laughable in an unfunny way. Not only that, but the dialogue gets cliche as well. I felt sorry that Robert Englund had to be in this movie. Plot & story were cliche & predictable. Oh & it's also very unoriginal. Final summation, out of all the movies based on giant snakes, this is the worst one by far. You want some good laughs as your eyes burn to how bad a movie is? Watch this movie.
Frisby 2007
Super Reviewer
½
Not bad, could've been worse. There are a few good scenes here, but overall, there's something missing that I can't put my finger on.
Stephen Skudlarek
Super Reviewer
Python Quotes
There are no approved quotes yet for this movie.