Pushover
(1954)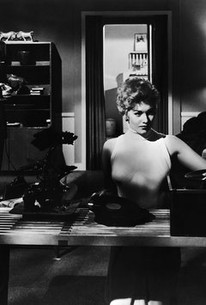 Movie Info
The promise of a femme fatale's love lures an honest middle-aged cop down the road to ruin in this noirish crime drama. The trouble centers around a bank robber and his gang who have just knocked-off a bank for $200,000. To find the crooks and the loot, Officer Paul Sheridan (Fred MacMurray who played a similar role a decade before in the controversial Double Indemnity) is assigned to carefully monitor the activities of the gangster's bombshell-blonde moll Leona (Marilyn Novak, who later became a star after she changed her first name to "Kim") in hopes that she will lead him to the robbers' lair. It doesn't take long for the slinky seductress to cast a romantic spell over the aging Sheridan and after she has him firmly hook, she suggest that he murder the gangster so that the two of them can abscond with the money.
Critic Reviews for Pushover
Audience Reviews for Pushover
I like a good film noir. I was expecting that this one is a good choice. Directed by Richard Quine, it stars Fred MacMurray, Philip Carey, and Kim Novak in her breakthrough role. The screenplay was adapted from two novels, The Night Watch by Thomas Walsh and Rafferty by William S. Ballinger, and I'll say, wasn't developed enough, and characters remained just film types rather than real people we could relate. The story of the honest cop Paul Sheridan (Fred MacMurray) and him having a task to recover $200,000 after a bank robbery, most of the time worked well. I like how the little events, each of them relevant to the story, were incorporated while the police officers maintain a 24-hour surveillance on Lona McLane (Kim Novak), a girlfriend of one of the robbers. Of course, it's always something complicated in life, and here is that Sheridan quickly falls in love with Lona, who, when she finds out he's a policeman, tries to persuade him to kill Harry Wheeler (Paul Richards) so the two can take off with the cash... Film's plot is similar to other film noir, and some critics think that Double Indemnity is the movie to compare. Kim Novak was, at the time, a rising photogenic and acting star. For me, as a blond chick, she didn't do much - overacting was a huge problem and when Fred MacMurray grabs her for a kiss it didn't look romantic or full with passion - last time when I saw a kiss like that was when a Turkish free-style wrestling team member at the Balkan Championship kissed the official when awarded a gold medal. Not a pretty sight! This is not a great film, but it's immensely entertaining, covering a lot of territory in its 88 minutes.
Although it's a reworking of MacMurray's far superior Double Indemnity this is still a decent little crime caper. Kim Novak is utterly ravishing in her first big screen role, showing herself already possessing undeniable screen presence and star charisma. Even if she never was the best actress on the block she registers on screen, you eye is drawn to her even when she isn't saying anything. There's also solid support from Phil Carey and Dorothy Malone and efficient direction by Quine. Look very fast for a dark haired Marion Ross in a quick bit walking out of a building with Dorothy Malone.
½
Police detective Paul Sheridan (Fred MacMurray) falls for the uber-hot girlfriend (Kim Novak) of a bank robber that he's tracking. When the girl suggests that they make off with the loot and start a new life of their own, Sheridan starts to contemplate putting a plan together that will leave him with a gorgeous woman and $200,000 cash. For a B-movie that few people have ever heard of and even fewer have ever seen, this is surprisingly good. How is it that a studio could put together two stellar leads in classic 50's film noir style and have it go virtually unnoticed for so long? This is about as underrated as a film ever gets. A true hidden gem.
Randy Tippy
Super Reviewer
Pushover Quotes
There are no approved quotes yet for this movie.