Pusher III: I'm the Angel of Death
(2005)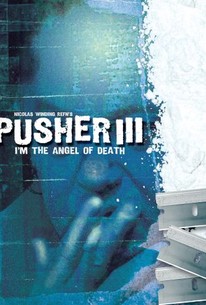 Pusher III: I'm the Angel of Death Photos
Movie Info
This third installment of the "Pusher" trilogy follows Milo, the agining drug lord from the two first films. He is planning his daughter's 25th birthday, and his shipment of heroin turns out to be 10.000 pills of ecstasy. When Milo tries to sell the pills anyway, all hell breaks loose, and his only chance is to ask for help from his ex-henchman and old friend Radovan.
News & Interviews for Pusher III: I'm the Angel of Death
Critic Reviews for Pusher III: I'm the Angel of Death
Audience Reviews for Pusher III: I'm the Angel of Death
½
With this third and final film in the Pusher trilogy, Nicolas Winding Refn crafts an astounding final to his crime saga that launched his career, and showcased him as a standout, visceral director who has elevated the genre to new, exciting heights of sheer brutality. This is a different take on the crime underworld of Denmark, as Nicolas Winding Refn shifts his attention to a crime lord, Milo, instead of lead character Tonny, who was present in the first two. This is yet another riveting crime tale, one that tells a highly captivating, engaging story that is brilliantly crafted by a director who has a take no prisoners attitude in delivering a crime saga like no other filmmaker. There have been many outstanding genre films, but few have the menacing, riveting quality that really makes them standout. That is where Nicolas Winding Refn's breaks from the mold. His vision, his approach to the material is perfect. He makes a crime film the way it's supposed to be made. The story here is bold, brilliant, exciting and well written in scope. What really stood out for me with the Pusher films is the way Refn's focused on the characters and their actions, and since these films take a look at drug pushers, it's quite the unique and unforgettable experience. This final picture in the series continues that aspect that was present in both previous pictures, but the tables have turned, and in doing so, Refn has crafted a very good, bold, chilling final chapter to his incredible trilogy. If you're wanting a great crime picture to watch, then you ought to check out Pusher III, and if you're into some continuity, I suggest you start by Pusher and its sequel before moving on to this final act. Pusher III concludes the trilogy on a high note, and overall on it's on, it's a great film, a film that ranks among one of the finest crime films ever made, and in regards to the trilogy, it's one of the most entertaining drama's that I have seen in quite some time. Pusher III is a fine storytelling, and by focusing his attention elsewhere, Nicolas Winding Refn was able to deliver a great crime drama while keeping the traditional elements that have made the Pusher films memorable and modern classics.
Director, Nicolas Winding Refn saves the best one in the series for last. I Am The Angel of Death is the finest film in the trilogy, its dark, edgy, stylish and surprisingly effective piece of work that goes from the gritty and dirty underworld to the yearning for escape and recovery. A film that makes you take a hard gut-punch that's cruel and nasty. A tough, hard-boiled and very addictive thriller. Zlatko Burik gives a brilliant and truly absorbing performance, his villain Milo is more grounded and compelling in this film, you have sympathy for him and really hope he makes it through. A powerful and engrossing classic. This series is some to the finest and darkest work about the crime underworld ever,
Authentic if grimey end to the trilogy with less engaging characters and unnecessarily gorey moments.
Gordon Anderson
Super Reviewer
Pusher III: I'm the Angel of Death Quotes
There are no approved quotes yet for this movie.