Pusher II: With Blood On My Hands
(2004)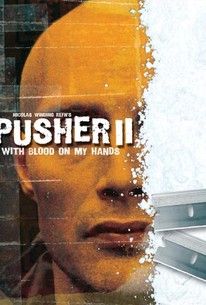 Pusher II: With Blood On My Hands Photos
Movie Info
Upon skinhead Tonny's release from jail, he begins working for his gang boss father as a car thief and finds out he has fathered a child.
Critic Reviews for Pusher II: With Blood On My Hands
Audience Reviews for Pusher II: With Blood On My Hands
½
Continuing the story from the first film, Nicolas Winding Refn's follow-up Pusher II builds upon what the first film did, and follows the release of Tonny from prison and his return to the criminal underworld in Denmark. Brilliantly acted and directed, this is an engaging drama that will definitely please fans of Refn's original work. Building on the formula established in the first film, Pusher II amps up the stakes, and presents yet another raw, gritty portrait of the Denmark criminal underworld. What stands out here is that Nicolas Winding Refn crafts a film that tells a thoroughly engaging story, and focuses more on great characters and plot than visuals. What he does is make a standout picture that doesn't have mindless thrills, and it's a smart, thrilling picture that uses the power of telling a tense, memorable story that makes this sequel standout. Add to that, a tense atmosphere of raw power that elevates the tone of the movie, and it makes you feel as if you're in the film. Refn is a terrific storyteller, and he crafts a vivid, gritty crime drama that is engrossing from the moment it starts. With simple ideas, Nicolas Winding Refn has crafted a stunning follow-up to his debut, a film that ranks up there with some of the finest sequels ever made, and he is clearly understanding of the genre, as he displays a knack for telling a pulse pounding, unforgettable epic of crime. This is cinematic art, a film that oozes with style and story to really grab your attention, and it does so by having a director who clearly captures the chaos of the criminal underworld in a way that makes for a truly unique piece of cinema. Nicolas Winding Refn has always made powerful films, but with this sequel, he steps up his game, and really he hasn't topped it, not even with Drive and Only God Forgives because there is something present here that just makes this film standout in the crime genre.
It's better than the original, Pusher works all sorts of magic, it redefines the criminal underworld genre. It is not a gangster story but a down and dirty story of criminals and their attempt to be successful but ends up to be their finish. It shows a gritty and realistic side of this world and pulls no light punches what so ever. Director, Nicolas Winding Refn continues to show great depth to a chilling and ugly atmosphere and characters to go along with it. It's harsher than the original, yet you have more affection for it. Mads Mikkelsen carries this film perfectly, he starts out from the first as this awful addict-drug pusher and now is trying hard in his own way to do the right thing. Mikkelsen is tremendously honest, terrific and bloody brilliant. It's stylish, energetic and has its own beat.
½
Gritty urban drug drama with a finely judged performance from Mikkelson balancing his character's aggressive front and deep seated insecurities - you end up empathising with him despite his repellent actions.
Gordon Anderson
Super Reviewer
Pusher II: With Blood On My Hands Quotes
There are no approved quotes yet for this movie.