Pure Country
(1992)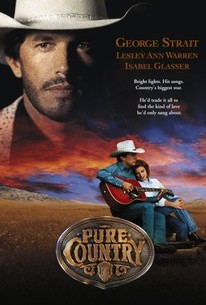 Movie Info
The big-screen debut of country singer George Strait is a familiar tale of a star returning to his roots, a route traveled the same year by John Mellencamp in Falling From Grace (1992). Strait plays Dusty Chandler, one of the hottest performers in country music. Dusty feels that his elaborate stage show is overwhelming his music, a suspicion confirmed one night when he forgets several bars of a chart-topping hit and his fans don't even notice. Disillusioned, Dusty tells his manager Lula (Lesley Ann Warren) and best buddy Earl (John Doe) that he's taking a break. After shaving his beard and cutting off his ponytail, Dusty heads for the small farm town where he grew up, visiting his wise old grandmother (Molly McClure) and ending up at the ranch of the Tucker family, where nobody recognizes him. He becomes a hired hand, earning the respect of owner Ernest (Rory Calhoun) and falling in love with Ernest's daughter Harley (Isabel Glasser), a woman determined to save the struggling spread with victory in a Las Vegas rodeo. When Dusty learns that Lula has secretly replaced him onstage with her boyfriend (Kyle Chandler), he stages a showdown that wins Harley's affections. ~ Karl Williams, Rovi
News & Interviews for Pure Country
Critic Reviews for Pure Country
Audience Reviews for Pure Country
½
This is a great movie to say the least. It's the best biographical movie that I've ever seen, and one of the best period. It tells the story of the best country singer, George Strait. George Strait is a great actor in this movie. Yes, you'll actually see him get upset for once while he acts out the highs and lows of his career in this movie. This movie made me respect George Strait more for what he had to go through to become the superstar that he is and there couldn't be a better ending to a great movie. Along with the great music that you'll hear in this movie, this is one of the top ten movies of all time in my opinion. If you're a George Strait fan or even if you're not, this is a GREAT movie and deserves to be ordered by anyone. NOTE: This was my Amazon review from the year 2000. I've seen this film several times since then and still love it, not only because I'm a big George Strait music fan, but it's a great movie to watch in itself, and even non-country music fans should watch!
Jason Owens
Super Reviewer
The wife is a HUGE George Strait fan, but I must admit that...I don't get it. This movie didn't help me, either.
Pure Country Quotes
There are no approved quotes yet for this movie.