Pups
(1999)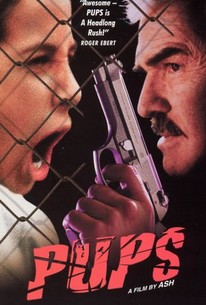 Movie Info
Two bored suburban kids looking for something to do get trapped in the wrong kind of excitement in this independent drama. Stevie (Cameron Van Hoy) is a boy in his early teens, depressed and out of sorts, who half-heartedly attempts suicide without having the wherewithal to go the whole nine yards. When his girlfriend Rocky (Mischa Barton) shows up on her way to school, Stevie has just found his mother's gun while poking around the house. As they head off for class, Stevie brings the pistol along. They pass a bank along the way, and Stevie impulsively dashes in and decides to rob the place. Before Stevie and Rocky can get away, police and FBI agents arrive on the scene, and Stevie announces he's taking the customers inside the bank hostage. FBI negotiator Daniel Bender (Burt Reynolds) is sent to the scene of the crime; while it's quickly obvious to him that these are two kids pulling a prank that got out of hand, they're also armed and in the middle of a very dangerous situation, and Stevie's bursts of adolescent rage aren't making things run any smoother. Financed by a Japanese production company but written, directed, and starring American talent, Pups had its premier screening at the 1999 Los Angeles Independent Film Festival -- only two days before two armed high school students went on a tragic killing spree in Littleton, CO.
Audience Reviews for Pups
½
'Pups' is about very emotive subjects (gun crime and gun ownership in the US, the loss of innocence and nihilism of younger generations) that manages raise them without ever turning to didacticism. It is the sort of film Michael Moore wishes he had the intelligence to produce. It is political without wearing a badge on its sleeve, rather than spending the entire film hammering home an anti-gun message it treats us as adults. But that's not really what I wanted to talk about because the political message is of secondary importance. Foremost this film is a very very dark comedy that is playful with convention and whilst not perfect (it lacks pace at points, Rockie can be annoying) it is beautifully crafted and well worth anyone's time.
Cassandra Maples
Super Reviewer
Pups Quotes
There are no approved quotes yet for this movie.