Puppet Master 4
(1993)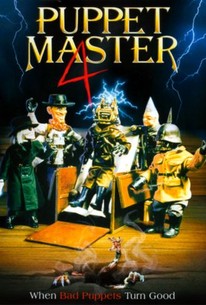 Movie Info
The supernaturally animated demonic puppet creations of a mad puppeteer take on real demons from the bowels of Hell as they struggle for possession of an ancient Egyptian formula that brings the dead back to life in this gory episode of the horror thriller series.
News & Interviews for Puppet Master 4
Critic Reviews for Puppet Master 4
All Critics (5) | Fresh (0) | Rotten (5)
kinda weird angle
December 11, 2007 | Rating: 2/4
This is when the series went to hell. Sad, after the inspired third Puppet Master.
September 21, 2003 | Rating: 1/5
Audience Reviews for Puppet Master 4
½
Number four and this time the puppets are up against some demon and his little naughty spawn minions. The film continues with the idea that the evil puppets are fighting for good now, assisting the humans with each cause. As we are back in the present day 'Toulon' is of course dead yet his spirit helps a duo of plucky young teens (once again inside the creepy old hotel) to fight 'Sutekh' the demon and his 'Totems' (minions). As before you get what you expect with this franchise but this offering is a little more fantasy based. The demon 'Sutekh' seems to be a slight take on 'Darkness' from 'Legend' if you ask me. Not in terms of visual design but the way he struts around commanding his servants and spouting lots of fairytale-like ramblings about the downfall of good. I must add that the design, makeup and prosthetic work for 'Sutekh' and his netherworld priest-like minions are all really good. You can tell its all people in rubber suits of course but they actually are quite effective, not scary or gross but more of a quirky halloween-ish villainous feel that could almost be out of a kids film like 'TMNT' or 'The Nightmare Before Christmas'. The 'Totems' that run around and do battle with 'Toulon's' puppets are little hell spawns but made and animated in the same way the classic killer puppets have been. They don't look quite as cool as the classic puppets, more a cross of reptilian with alien, but its fun to watch them kill the dodgy actors haha. There is some continuity here as Guy Rolfe reprises his role as 'Toulon' from the third film. Stacie Randall is another Band regular here that has been seen in 'Trancers 4' 'Trancers 5' and 'Ghoulies 4'. There has never been any real continuity with the puppets in these film unfortunately. Some of them come and go without reason, only 'Blade' 'Tunneller' 'Pin Head' and 'Jester' seem to be regulars. 'Six Shooter' comes back for more in this one and we are introduced to 'Decapitron' whose name kinda gives the impression he's gonna cut folks heads off, that's not the case I'm afraid. He looks quite cool though. One of the better sequels in the franchise which offers a lot more bang for your buck with plenty of doll action, some decent visuals and good imagination. Gotta give kudos to Band and his team for their continuous remote control puppetry skills and determination.
Phil Hubbs
Super Reviewer
Awful film. Tiresome and uninspired, this fourth entry abruptly changes direction from the last two sequels. Unfortunately the result is a very stupid film that tries far too hard at being a great tongue in cheeks sci fi horror flick. The film doesn't pay off, and it ends up being the worst entry in the first five outings. This film is painful to watch. If you're looking for a fun horror flick, this film isn't. Puppet Master 4 is a poorly crafted film of which no effort has been put into the film, you clearly see that on-screen. The cast are bad, and give awful performances, the directing is bad and it's clear that the director has no interest in trying to make a good film whatsoever. That's often the case with straight to DVD titles, there is no effort put into the films because no one will be interested watching them. The film has all the trademarks of what makes a bad straight to DVD title. The film looks cheap, just like every other film in this series, the story is minimalistic, silly and stupid and add to that a cast that can't act. This film is horrible, and is one of the most stupid films in this entire series. This film should be seen as a how not to make a film. Disappointing, and utter waste of time, Puppet Master is a horrible mess from start to finish, one that isn't worth anyone's time. Watch something else, you'll be glad you did, because this film is simply just stupid, and makes you wonder as to why you even watched it in the first place. Watch something different, as this is a stupid, pointless, poorly constructed film that never should have been green lit.
The Puppet Master series is re-invented. The puppets gain a new master; a computer programmer techno-whiz kid. He commands them to do good things. A new ancient magic Egyptian mythology is introduced, with bad wooden creatuers called "Totems" causing a lot of trouble. The good puppets must fight them. The same castle on the cliff from the first two movies is used as a setting. I didn't understand the bit about the new "Decapitron" puppet being made. This one was a lot of fun; very enjoyable.
Lafe Fredbjornson
Super Reviewer
Puppet Master 4 Quotes
There are no approved quotes yet for this movie.