Pumpkinhead II: Blood Wings
(1994)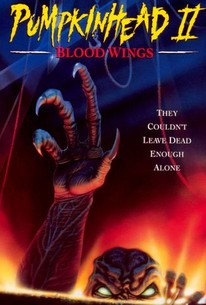 Pumpkinhead II: Blood Wings Photos
Movie Info
In a small town in Arkansas in 1958, a pitiful, deformed "feral boy" is tortured and killed by trouble-making local teenagers. The creature, however, was the son of the monster Pumpkinhead. Twenty-five years later in the same town, a group of bored teenage punks manage to bring back his spirit.
Critic Reviews for Pumpkinhead II: Blood Wings
Audience Reviews for Pumpkinhead II: Blood Wings
The original movie was imaginative and creative, but the sequel seems to fall into B-movie land without a look back. Worse, the legend of Pumpkinhead was rewritten, though it need not have been. This movie stays solidly in horror movie clich land from beginning to end. A group of teens torment a deformed little boy, eventually dropping the lad into a well. Years later another group of teens awaken the lad, only now he has turned into the evil Pumpkinhead. Murder and mayhem ensue. The two big problems with this movie are that the basic plot shows little imagination and the acting is awful. Other than that, the movie is pretty good. Of course, the acting and the plot are the majority of a movie, and the special effects are nothing to write home about. However, this movie is somewhat redeemed by a "boo" factor. Pumpkinhead appears (or throws bodies about) in a periodically scary way. Nothing like a monster jumping out from behind a building to give you a jump. "Pumpkinhead 2" is not an awful movie. The movie does provide a few minor chills. However, the choice of the movie name is unfortunate. Other than the general appearance of the creature, reinventing the mythology is confusing for those of us that liked the first movie. Perhaps they should have called it "Pumpkinhead: Resurrection," and explained that Pumpkinhead creatures came from certain circumstances that are now repeating for the second time. Oh well. The movie is in the can and you have to either take it, warts and all, or pass it by. It's worth at least one watch if you are a die-hard horror movie fan. 2 Stars 2-4-14
Bruce Bruce
Super Reviewer
Sequel to Pumpkinhead is a mediocre monster film that fails to capture the thrills of the original. The film is poorly thought out, and ridiculous. The original film had a dark, sinister atmosphere that added to the film's experience. This sequel is boring and poorly directed and is nowhere near Stan Winston's original. If you do decide to watch this film, don't expect much as this is quite the disappointing sequel. I really didn't enjoy this film, and felt it could have been much better. Pumpkinhead II is a heavily movie, one that will displease fans of the original, and if you're looking for something watchable in terms of an entertaining sequel. This is a film that never should have been made, and considering what we are subjected to in this sequel, Pumpkinhead should have been a standalone film. This is a pointless sequel, one that really don't need and the tone of the movie is sillier compared than the original. I just didn't get into this one and was let down. This one joins many other sequels that have failed to capture the vibe that was established by Stan Winston's film. If you loved the first and you haven't seen this one, then pass it up, you're not missing anything. This is a mediocre film that just could have been much better, but it fails on so many levels. This is one film that isn't worth your time. Stick with the original; you'll be glad you did. Pumpkinhead II just feels rushed with no emphasis on trying to create a memorable horror film, and what we see on-screen proves my point.
A.D. Villarreal
Super Reviewer
Pumpkinhead II: Blood Wings Quotes
There are no approved quotes yet for this movie.