Public Speaking
(2011)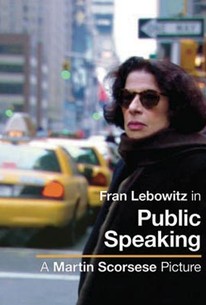 Movie Info
"Public Speaking" is a feature-length documentary in the vein of "American Boy" and "Italian American." The film weaves together extemporaneous monologues featuring Fran Lebowitz with archival footage.The effect is a portrait of Fran's worldview and experiences.
News & Interviews for Public Speaking
Critic Reviews for Public Speaking
Audience Reviews for Public Speaking
½
"Public Speaking" is a documentary about Fran Lebowitz, writer, wit, speaker and occasional guest star on "Law and Order." What also makes her special is her possessing the special ability to not only think on her feet but express those thoughts coherently. Even then, she does not have a 100% success rate, occasionally stepping in it. One of her insights that I especially liked involves explaining why there are no literary prodigies, as writers have to have lived at least a little to have something to write about. For the record, Lebowitz had her first book published when she was 27. Sadly, that's one of the rare bits of biographical information we are given in this otherwise entertaining extended interview, so "Public Speaking" may be more intended for fans than newcomers. Rather, the documentary is apparently more interested in a lost New York City(yes, Scorsese, we know you directed "Taxi Driver"). In a wider sense, that could also include thinking fondly on a time when public intellectuals like James Baldwin, William F. Buckley and Gore Vidal debated each other and walked the earth. So, currently, Lebowitz could be considered one of the last of a dying breed.
I see Scorsese's "Public Speaking" as someone who is ready and willing and open to talk about anything that ticks them off about life and what gets them going and that person happens to be about writer Fran Libowitz. Scorsese uses stock footage of James Baldwin, Truman Capote, Gore Vidal and others since they're Libowitz's influences. She is not a bore to watch and I liked when she mentions that she doesn't use a cell phone or a microwave oven when so many people of today do. I am not quite sure why Scorsese wanted to do a documentary about Libowitz or if this is considered a great film. After making serious films dealing with guilt, regret and violence, I suppose this is Scorsese's way of idk mellowing down?
½
Its just terribly fun to listen to Fran Lebowitz speak regardless of the topic. I'm not sure what I think of Scorsese's stylistic choices that are thrown in at random intervals, but just to see and hear Lebowitz rant for an hour and twenty minutes is a treat.
Alec Barniskis
Super Reviewer
Public Speaking Quotes
There are no approved quotes yet for this movie.