Pu-239
(2006)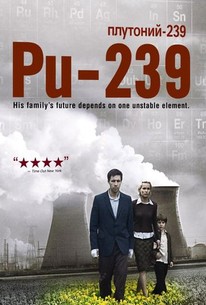 Movie Info
Drama about a technician who goes to extreme lengths to support his family after being exposed to a lethal dose of radiation in post-perestroika Russia. Adapted from a Ken Kalfus short story.
Critic Reviews for Pu-239
Audience Reviews for Pu-239
[font=Century Gothic]"PU-239" is the radioactive isotope of plutonium that Timofey(Paddy Considine) is trying to sell in the black market of Moscow, two days after being exposed to a lethal dose of radiation at the nuclear plant where he works and stole the plutonium. After the accident, he was suspended without pay and is trying to raise $30,000 to tide over his wife Marina(Radha Mitchell) and son Tolya(Danya Baryshnikov). In Moscow, he makes contact with Shiv(Oscar Isaac), a petty criminal who has problems of his own, namely him and his two cohorts(Jason Flemyng and Jordan Long) owing $6000 for burning down the wrong business while running a protection racket for their boss Tusk(Nikolaj Lie Kaas).[/font] [font=Century Gothic][/font] [font=Century Gothic]"PU-239" is a harrowing tragicomedy that focuses less on nuclear terrorism(which is cool, so I did not have to lie awake all night), then as a damning portrait of post-Communism Russia which is falling apart at the seams. While Timofey might convey the tragedy and Shiv the comedy, they are both honorable men and of similar minds concerning family, both wanting to do the right thing by their sons.(Speaking of which, the movie does a great job of detailing the perils of lacking a proper education.) Risking his life, Timofey stopped a meltdown at work while Shiv is clearly the best of a very bad lot. In the end, none of these values are exactly encouraged in present day Russia.[/font]
½
To me a really good movie, maybe beacuse of the number of times I have been to Russia and seen the conditions people live in over there. Great story, feel that Russian Nuclear Submarine Sailors and Crewmen (KGB). have to live with these facts often, as I am sure the goverment sweep's them up and ships them to somewhere secret in the Motherland, most likely Northern Russia. A dissapointing ending, it just ended. Comical gand Members. A Rental. Not a Add to any collection. Would have gotten my 5 stars had it ended better. Oh Russian women are always welcome.
Bruce Bruce
Super Reviewer
½
Very good, it has Paddy Considine so that should be enough for required viewing. I really enjoyed this film.
Jesse Ortega
Super Reviewer
Pu-239 Quotes
There are no approved quotes yet for this movie.