Prometheus
(2012)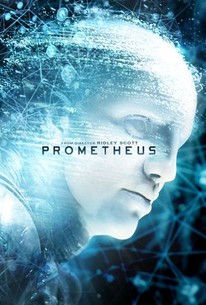 TOMATOMETER
AUDIENCE SCORE
Critic Consensus: Ridley Scott's ambitious quasi-prequel to Alien may not answer all of its big questions, but it's redeemed by its haunting visual grandeur and compelling performances -- particularly Michael Fassbender as a fastidious android.
Movie Info
Ridley Scott, director of Alien and Blade Runner, returns to the genre he helped define. With Prometheus, he creates a groundbreaking mythology, in which a team of explorers discover a clue to the origins of mankind on Earth, leading them on a thrilling journey to the darkest corners of the universe. There, they must fight a terrifying battle to save the future of the human race. -- (C) Official Site
News & Interviews for Prometheus
Critic Reviews for Prometheus
Audience Reviews for Prometheus
½
An ambitious movie with outstanding visuals and great ideas, but the existentialist debate never goes beyond the obvious, and so even if it has a gripping mystery, this is a frustrating effort that only cares about coming up with more and more questions than ever answering them.
Carlos Magalhães
Super Reviewer
To set the record straight, this movie is indeed an 'Alien' prequel. It offers insight to the origins of the alien creatures, the derelict ship, and the dead space jockey pilot from the first film. However, these insights are only part of the plot to Ridley Scott's return to the sci-fi genre. The film holds a lot of promises in the first twenty minutes with it's "humans were created by aliens" concept but the theological and philosophical implications are only touched upon. There is no denying that 'Prometheus' is a great looking film. Scott's manic attention to detail is on full display with the spaceship interior and vehicles. The cinematography and top-notch visuals give the film's universe a sense of vastness. As great as the film looks, it is taken down by a cliche and very convoluted script. The film sets out for new territory to explore but only ends up treading over the same ground as it's predecessors. The film becomes such an 'Alien' knock-off that it even has the 'crew member having a secret agenda' twist. Aside from the android David (played fantastically by Michael Fassbender), the rest of the characters are bland, with most existing just to be alien bait. Plus the number of confusingly ridiculous moments and un-answered questions plague the film as it plods along. It's a shame that even with Ridley Scott back at the helm, this latest entry in the Alien franchise can't escape mediocrity. In all honesty, it should have stopped with 'Aliens'.
Christopher Heim
Super Reviewer
A smart, slam-bang thriller that engages its audience from its mysterious opening shot all the way to its open-ended conclusion, featuring a team of scientists (led by Noomi Rapace) who journey to a distant planet in the year 2093 in hopes of uncovering hidden secrets regarding mankind's beginning and the meaning of life. Ridley Scott's visual scope is impeccable right from its opening tracking shot of the hills of Scotland, and the way he packs his film with atmosphere, tension, and absolute horror is a welcome surprise to the banal horror films (with exception to "The Cabin in the Woods", namely) we have received lately. Sure, the film is not a mastery in how to develop characters (but neither were "Alien" or "Aliens", two films that are considered to be all-time greats by many, many people, including me), but it is an old-school lesson in how to properly freak out your audience, all while inputting a philosophical spin that is completely arresting. Although the film could have expanded on its "faith vs. science" battle, and there are some notable, inexcusable plot holes, it still works due to its cast. Everyone involved gives fantastic performances (Noomi Rapace, aka the original "The Girl with the Dragon Tattoo" is outstanding, as is Michael Fassbender as the android David), there are tons of scares, all concluded with an ending straight out of Hell. Flawed, absolutely, but still an engaging, arresting, beautifully shot philosophical blast of a film whose ambiguity is frustrating and ballsy at the same time.
Dan Schultz
Super Reviewer
Prometheus Quotes
There are no approved quotes yet for this movie.