Prizzi's Honor
(1985)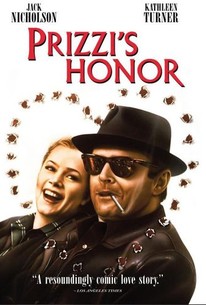 Movie Info
Richard Condon's delicious black comedy was lovingly translated to the screen by legendary director John Huston in one of his last movies. The Prizzis are a powerful family of mobsters, as devoted to their code of honor as they are to bending laws and breaking skulls. Charley Partanna (Jack Nicholson), a Prizzi hit man, is not quite so honorable, at least where affairs of the heart are concerned. While attending a mob wedding, he throws over his longtime sweetheart Maerose Prizzi (Anjelica Huston) in favor of gorgeous Irene Walker (Kathleen Turner). Supposedly a tax consultant, Irene is actually a paid killer like Charley--and this endears her to him all the more. But when it turns out that Irene has betrayed the Prizzis, Charley finds himself on the horns of a dilemma: does he kill Irene or marry her? Fortuitously, Irene helps Charley make up his mind by attempting to kill him. The film's strongest suit is its matter-of-fact approach to Charley and Irene's profession; in the movie's most memorable scene, the two lovers calmly discuss their dinner plans while disposing of the corpse of their latest victim. Nominated for eight Academy Awards, including Best Picture and Best Director, Prizzi's Honor won Best Supporting Actress for Huston's daughter Anjelica, playing the "art imitates life" role of Nicholson's cast-off girl friend. The win made Anjelica, John, and Walter Huston the only three generations of one family all to win Oscars.
Critic Reviews for Prizzi's Honor
Audience Reviews for Prizzi's Honor
½
A hit man falls in love with a counterpart who robs his employers. Anjelica Huston's icy but damaged mob daughter earns this film a full star in my book, not mention the Oscar it won Huston. With a cool, reserved vulnerability, her performance is captivating. The rest of the film is not as good. The love story plot is horribly developed. There is very little chemistry between Jack Nicholson and Kathleen Turner, and the characters senselessly dive into a relationship that is based on so little that it makes one wonder why they would give up so much for its sake. The eventual plot twists are formulaic and predictable. Overall, the film makes no sense as a drama, and though it's meant to be a comedy, I don't get the joke.
Jim Hunter
Super Reviewer
John Huston has a little fun with the by now typical New York family crime tale when one of their main killers spots a beautiful blonde at a Mob wedding and is instantly smitten. There's a catch though ... she's a contract killer too. Nicholson and Turner are good enough for charm and Huston's daughter gets to shine too, enough to win Best Supporting Actress for that year.
Kevin M. Williams
Super Reviewer
½
For as much as I remember Prizzi's Honor getting talked up when I was a kid, as an adult I've got to ask what the hell the big goddamn deal was about. The story sets up an interesting premise but takes some major lapses in logic (even if the only mafia movie you've ever seen is The Godfather) and ties things up W A Y too conveniently at the end. The performances were either hammy and over the top (I'm talking to you, Nicholson) or downright negligible (*cough*KathleenTurner*cough*.) The only exception was Anjelica Huston whose foxy magnificence was grossly underused. I actually almost turned Prizzi's Honor off in the first half hour, but by the time the credits rolled I was sort of glad I didn't, but I've got the feeling that John Huston was counting on nonexistent charm to carry this story where there was never really anything there.
Michael Gildea
Super Reviewer
Prizzi's Honor Quotes
There are no approved quotes yet for this movie.