Primer
(2004)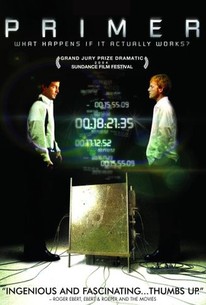 Movie Info
The debut feature from filmmaker Shane Carruth -- who wrote, directed, photographed, edited, scored, and stars -- Primer is a psychological sci-fi thriller about a group of four tech entrepreneurs. Toiling away in a garage, the quartet have successfully created error-checking systems for their clients. But their recent work seems to have created an unexpected and seemingly impossible side-effect. Suddenly, two members of the group realize they are in possession of a device that can double, or perhaps even quadruple, the space-time continuum of anything that enters it. What at first seems like a windfall of astronomical proportions eventually proves to be much more than they bargained for, as the duo attempt to manipulate time to their financial -- and emotional -- benefit. Also starring Casey Gooden, Anand Upadhyaya, and Carrie Crawford, Primer premiered at the 2004 Sundance Film Festival, where it won the coveted Grand Jury Prize for dramatic film. ~ Matthew Tobey, Rovi
Critic Reviews for Primer
Audience Reviews for Primer
½
Boyfriend thinks it's the best low-budget film ever made. I found the acting and dialogue great and believable, but the story never raised the stakes enough for me to care. Still under the limitations, fantastic movie and rewatchable.
Letitia Lew
Super Reviewer
Well executed thriller, Primer is a film that manages to use a simple concept to create a picture, and it boasts a small cast as well, and an interesting story. I enjoyed the film for what it was; and felt that the filmmakers were able to make something quite interesting with the idea that they used to make the film. Primer isn't perfect, and at times it feels like it had plenty of potential to be so much more as well, and I think that if the director would have rewritten the script and changed a few things around, then maybe, the film would have really stood out. As a whole, the film is only really worth seeing once, as it doesn't necessitate multiple viewings. However, for what it is, it's a well made low budget feature that has some good performances, an interesting story and good direction to make things interesting for the viewer. Primer could have been so much more in terms of a thriller, and who knows what this film could have been if the script would have been slightly reworked. As it stands, this is a good movie, one that is unique in the way that it uses its concept, but it's far from the film that it could have been. This is worth seeing if you enjoy low budget indie picture, and for the most part, it's a skillfully crafted affair and it's entertaining, but you do end up wanting more out of the film, especially due to its short run time. Genre fans might enjoy this one, but for anyone else, you'll surely want more out of the film.
Cynthia S.
Super Reviewer
Primer Quotes
There are no approved quotes yet for this movie.