Prime Cut
(1972)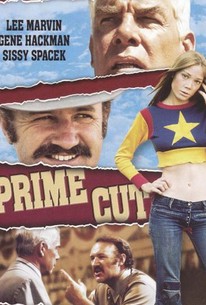 Movie Info
In this unusual crime thriller, the countryside becomes the homeplace for evil, and the cityscape is a relatively peaceful place. "Mary Ann" is the odd name for Gene Hackman's character, a scandalous cattleman who rips off meat-packing plants while pimping girls and running drugs. The quasi-gangster heads of the meat-packing plants arrange for Nick Devlin (Lee Marvin), a real gangster, to teach this creep a lesson. Thrilling momenta at a county fair and in wheatfields demonstrate that car chases aren't the only way to build suspense in action scenes.
News & Interviews for Prime Cut
Critic Reviews for Prime Cut
Audience Reviews for Prime Cut
½
Violent both in action and intention. Exposing some of the seamy underbelly of the seemingly docile Midwest. Fantastic acting by Marvin, Hackman and a very young Sissy Spacek. The beginning is not for the squeamish.
Sissy Spacek made her film debut in this sleazy but energetic crime thriller about big-times gangsters and the slaughterhouse they use to convert their enemies into sausage is a highly entertaining gangster film with co-stars Lee Marvin and Gene Hackman. Michael Ritchie takes iconic actors like Marvin and Hackman, who only have to be visible to make an effect. He puts in lots of destruction of property, and neo-Nazi blond bad boys falling by the score. There's shotguns and submachine guns and carnivorous farm equipment and 18-wheel trucks and all sorts of unlikely weapons. And the usual movie dichotomy of country good, city bad is stood on its head, with agriculture fairs and cornfields and sunflower fields as dangerous to life and limb as you could hope for (paging Alfred Hitchcock!). And young Spacek looked so beautiful and hot in her nudity scenes. Whooo!
Dean McKenna
Super Reviewer
This movie made me kinda sick. Nothing like women being sold like meat to make you feel all good inside.
Curtis Lilly
Super Reviewer
Prime Cut Quotes
There are no approved quotes yet for this movie.