Primary Colors
(1998)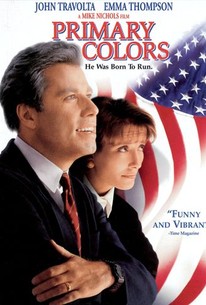 Movie Info
Director Mike Nichols and screenwriter Elaine May crafted a near-perfect adaptation of the 1996 best-seller, a hilarious and troubling fictional account of Bill Clinton's 1992 presidential campaign, and recent events make it only more relevant.
News & Interviews for Primary Colors
Critic Reviews for Primary Colors
Audience Reviews for Primary Colors
This movie did not age well. There's a scene early in the democratic primary race where everyone in a packed diner is glued to the small television set, watching and commenting on an interview - "Today Show" style - of our candidate and his wife. Either our political culture was very different back in 1992, or this is an example of the movie's unrealistic, self-absorbed sensationalism. Without any clear sense of direction, we watch the plot stumble into one manufactured problem after another. Instead of insight into modern politics, we get guns, drugs, heart attacks, old men sleeping with 17 year olds, and gay sex - all in one race to become the democratic nominee.
Matthew Slaven
Super Reviewer
½
Primary Colours is a political satire following a southern governor who bears a striking resemblance to Bill Clinton on his presidential campaign trail. This film was obviously aimed far more at mainstream audiences than I was hoping for and so seems very tame to anyone used to the likes of The Thick Of It or even 70s sitcom Yes Minister. The story is shown through the eyes of the idealistic grandson of a civil rights activist played by Adrian Lester, but as we don't get to learn much about him, there is little in the way of emotional involvement; in fact the whole "human drama" aspect of it felt very forced. Travolta's drawling womaniser is shown to be basically an honest and straight talking man with one flaw, and this lack of satirical bite also compromises his character. What does make this film however are the supporting characters; partly Billy Bob Thornton's red neck adviser but mainly Kathy Bates who tears through the film like a large lesbian version of hurricane Katrina. She has the best character and most of the best lines as a disillusioned ex-activist but once again the outcome of her part in the story felt a bit contrived and hollow. It does have wit, intelligence and a message, namely that this era of spin is a Frankenstain's monster that the complicity of a gossip-hungry public and sensationalist media have helped create, and it is always engaging; I just wished it had the cynical, satirical teeth to go in for the kill.
A well done, if though occasionally flawed, political comedy/drama that features two golden performances from John Travolta and Kathy Bates. While it does get over-dramatic at some parts and some of the characters could've been fleshed out a tad better, for the most part this is a well executed take on politics and how the people involved in them are never what they seem to be. I wish they had left the ending open-ended and daring the viewer to make their own choice as to what they would do in the situation posed in the film's conclusion, but I understand Nichols instead going with the more accepting finale.
Dan Schultz
Super Reviewer
Primary Colors Quotes
There are no approved quotes yet for this movie.