Pretty Baby
(1978)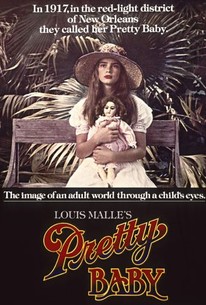 Movie Info
After making a series of acclaimed and controversial films in his native France, director Louis Malle made his American debut with this disturbing but visually beautiful story about Hattie (Susan Sarandon), a prostitute working in New Orleans' Storyville district at the turn of the century. When Hattie becomes pregnant, she opts to keep her baby and gives birth to a daughter named Violet, raising her in the brothel where she continues to work. Twelve years later, Violet (Brooke Shields) is old enough to attract the attentions of the brothel's customers, but emotionally has one foot in the adult world of her surroundings and the other in the naïveté of childhood. With Hattie's consent, Violet's virginity is auctioned off to the customers of the house; but for Violet, the pull between childhood and adulthood becomes most clear -- and most painful -- when she draws the affections of Bellocq (Keith Carradine), a photographer who has been working on a photo series about Storyville prostitutes. Violet's blend of childlike innocence and adult sensuality is profoundly attractive to him, but their relationship quickly becomes problematic, especially when Hattie leaves Violet behind to get married.
Critic Reviews for Pretty Baby
Audience Reviews for Pretty Baby
½
This is one of the more polarizing and challenging period pieces to ever be put to screen, mostly because of the sensitive subject matter and the use of a child actress to play a child. Brooke Shields as child prostitute Violet plays a girl who thinks she knows the ins and outs of adult sexual relationships but is still the same spoiled, inept child she should be. Raised in a whorehouse and privy to the goings on in the upstairs bedrooms, the young girl wants more than anything to be raffled off and made a whore for the same money and prestige as the other women. Sadly she doesn't realize how empty that life is, and that those around her are happy to take advantage the first moment that she's vulnerable. While the story itself is very upsetting, it's good to see the evolution of Violet's character from a spoiled brat into a lost girl. The supporting cast is amazing, including Susan Sarandon as Violet's equally spoiled mother, Frances Faye as the Madame, enamored with fading glamour, and Keith Carradine as the photographer Bellocq, someone who covets the young girl's beauty. For the subject at hand, it's tastefully done, and at no time is prostitution truly glamorized, instead showing how youth can be stolen so quickly it can break your heart.
Spencer S.
Super Reviewer
½
One of those things I had to see. And I must say that if it didn't make you slightly sick, you need therapy. Anyway, this is my second (I think) Malle film and something tells me I liked the other one better. The loonngg reaction shots were questionable only because the actor didn't actually emote more, just blank stare for the most part. But kudos to not only shields and her parents, but Malle for doing it. Having a 12 year old naked would get most people laughed out on their ass.
Jennifer D
Super Reviewer
The red-light district of New Orleans. The story of the women. The photographer. And the prostitute's daughter.
Pretty Baby Quotes
There are no approved quotes yet for this movie.