Presumed Innocent
(1990)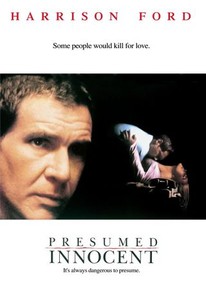 TOMATOMETER
AUDIENCE SCORE
Critic Consensus: Thanks to an outstanding script, focused direction by Alan Pakula, and a riveting performance from Harrison Ford, Presumed Innocent is the kind of effective courtroom thriller most others aspire to be.
Movie Info
Rusty Sabich (Harrison Ford) is a bland, oppressed man who burns with a quiet, corrosive intensity that can flare uncontrollably. A Philadelphia prosecutor, Sabich's fire seems to have one outlet: his job. He loves prosecuting people. Otherwise, his life is dead-ended. He has a loveless marriage to a neurotic woman (Bonnie Bedelia) and an overbearing boss (Brian Dennehy) in a labyrinthine law enforcement world of corruption and twisted relationships. Then Carolyn Polhemus (Greta Scacchi) comes into his life. Lovely and seductive, Polhemus easily entices him to break his marital vows, but she schemes to get him to try for his boss' job. When he refuses, she leaves him. When she turns up dead, the victim of an apparent rape-murder, clues begin to point to Sabich. His blood type almost perfectly matches that in the semen found in the victim, carpet fibers at the crime scene match those found in his house, and most damning, his fingerprints are found on a beer glass in Polhemus' apartment. His protestations of innocence ignored, Sabich is put on trial for the murder and hires his biggest adversary (Raul Julia) to defend him. ~ Nick Sambides, Jr., Rovi
News & Interviews for Presumed Innocent
Critic Reviews for Presumed Innocent
Audience Reviews for Presumed Innocent
A prosecutor's mistress is murdered, and he becomes the prime suspect. Throughout the majority of this film, I was bored. Harrison Ford was not at his most dynamic, charming, or interesting, and the supporting players were also relatively bland; when Raul Julia is bland in a film, you've got a story. I was all set to give it two stars or lower, and then the end happened. It got me. I'm usually pretty good at predicting the ends of films, especially mysteries, but I was truly stumped, and I don't mind admitting it. What's great about the reveal is that it's not unfair. All the clues are there, but they're so subtly placed that it's understandable that I didn't pick up on them. Overall, while it's no The Usual Suspects, this film gets bonus points for its unpredictable and compelling ending.
Jim Hunter
Super Reviewer
An interesting movie. Harrison Ford is Rusty Savage, a prosecutor. One of his fellow prosecutors is murdered and Rusty is charged with murder. You have to see the movie to find out who did it. On second watch, a couple years after the first, I downgraded my rating a bit. The movie is almost too obscure.
½
I have to start this off by saying I LOVE HARRISON FORD! It's rare that he's in a movie I don't like. With that said, I'm going to go ahead and say I liked this movie too. It had twists, sex, dirty politicians, affairs and amazing acting. I loved the ending.
Alexis Nomm
Super Reviewer
Presumed Innocent Quotes
There are no approved quotes yet for this movie.