Predestination
(2015)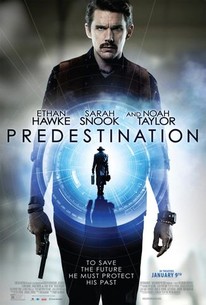 TOMATOMETER
AUDIENCE SCORE
Critic Consensus: Fun genre fare with uncommon intelligence, Predestination serves as a better-than-average sci-fi adventure -- and offers a starmaking turn from Sarah Snook.
Movie Info
PREDESTINATION chronicles the life of a Temporal Agent (Ethan Hawke) sent on an intricate series of time-travel journeys designed to prevent future killers from committing their crimes. Now, on his final assignment, the Agent must stop the one criminal that has eluded him throughout time and prevent a devastating attack in which thousands of lives will be lost. (C) Vertical
News & Interviews for Predestination
Critic Reviews for Predestination
Audience Reviews for Predestination
Its one of those time travel stories that ignores some of the basic rules of time travel stories (like there can't be two of you in the same place at the same time or all reality goes to shit), all while keeping the wonder, the possibilites, eh, intact. Translation: stop thinking about it and its pretty good, especially performance-wise.
Kevin M. Williams
Super Reviewer
½
A real mind bender of a sci-fi flick. The story is effectively told (which is an achievement because it could have been presented in a much more confusing manner). Although the story is intriguing, it ultimately is illogical and may leave you unsatisfied in the end. The film's nice to look at and done technically well. It's probably worth your time if you're looking for your Ethan Hawke fix.
Christian C
Super Reviewer
Predestination is the belief that everything that will happen has already been decided by God/fate and cannot be changed. The film utilizes this idea intelligently. The carefully constructed tale that Jane tells the barkeeper is a fascinating narrative that draws the viewer in for most of the adventure. The Spierig Brothers have fashioned a nifty little drama. "The most incredible story you ever heard" is indeed pretty bizarre. Yet the script thinks it's smarter than it really is. A turn of events in the final third undoes an intelligent account until it becomes almost a parody. I wish I could explain it because it makes me laugh just taking about it, but trust me, it's pretty ridiculous. Michael & Peter could have manipulated the source material utilizing any method they saw fit. As the resolution is presented here, it doesn't earn these revelations honestly, but rather in a way that is desperate to shock more than it is trying to tell a coherent tale. True, these time travel sagas never add up upon close scrutiny but this aggressively exploits a gimmick ending. As a result the narrative falls apart to problems that other time travel movies do not. Watch Back to the Future or Looper for the gold standard. fastfilmreviews.com
Mark Hobin
Super Reviewer
Predestination Quotes
There are no approved quotes yet for this movie.