Powwow Highway
(1989)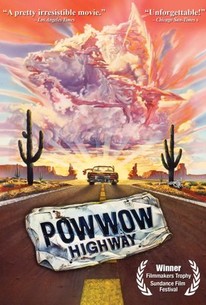 Movie Info
The road movie gets a smart update with this seriocomic tale of two Cheyenne men traveling from their reservation in Montana to New Mexico. For one of them, Buddy Red Bow (A Martinez), a quick-tempered activist, the journey is a practical one; his sister has been arrested and he is the only family member who can help her out. Buddy has no transportation, so he's forced to ride with Philbert Bono (Gary Farmer), a phlegmatic hulk of a man who is using his 1964 Buick as a vehicle for a spiritual journey of his own. Philbert's easygoing ways and insistence on frequent stops to meditate prove irritating at first to Buddy, but the men reach an accommodation as the trip wears on. Buddy comes to see that blaming the white man and what he sees as system rigged against Native Americans is distracting him from his true mission: to better understand himself and his place in the world.
Critic Reviews for Powwow Highway
All Critics (9) | Top Critics (1) | Fresh (9) | Rotten (0) | DVD (1)
The plot is not the point. What Powwow Highway does best is to create two unforgettable characters and give them some time together.

Martinez gives a solid, thoroughly credible performance, but it's Farmer who makes the movie truly special; look at his half-amused/half-offended reaction to a TV commercial featuring a car dealer wearing a feathered headdress and whooping it up.
Audience Reviews for Powwow Highway
I don't mind 'message films' but I don't care for ones that repeatedly beat you about the head and shoulders with preachy, cliched stereotypes.
Randy Tippy
Super Reviewer
Great road trip movie made all the more interesting with the fact that it is a Native self discovery road trip movie. Great for the native study canon.
John Ballantine
Super Reviewer
Pretty funny and awesome native movie!!! and Best of all is I got to meet GARY FARMER! ;) Great movie with lots of humor on Natives. :)
Donna Dawson
Super Reviewer
Powwow Highway Quotes
There are no approved quotes yet for this movie.