Post Tenebras Lux
(2013)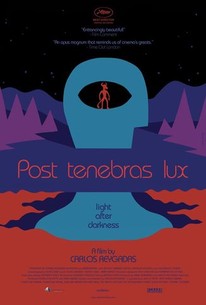 TOMATOMETER
AUDIENCE SCORE
Critic Consensus: Post Tenebras Lux conjures striking imagery amidst its formless exploration into darkness and light, but director Carlos Reygadas paints his abstract work with the slowest of brushstrokes.
Movie Info
POST TENEBRAS LUX ("light after darkness"), ostensibly the story of an upscale, urban family whose move to the Mexican countryside results in domestic crises and class friction, is a stunningly photographed, impressionistic psychological portrait of a family and their place within the sublime, unforgiving natural world. Reygadas conjures a host of unforgettable, ominous images: a haunting sequence at dusk as Reygadas's real-life daughter wanders a muddy field and farm animals loudly circle and thunder and lightning threaten; a glowing-red demon gliding through the rooms of a home; a husband and wife visiting a swingers' bathhouse with rooms named after famous philosophers. By turns entrancing and mystifying, POST TENEBRAS LUX palpably explores the primal conflicts of the human condition. (c) Strand
News & Interviews for Post Tenebras Lux
Critic Reviews for Post Tenebras Lux
Audience Reviews for Post Tenebras Lux
½
This experimental film of powerful imagery and evocative atmosphere may be intriguing at first, but soon it becomes pretty clear that Reygadas is not really interested in saying anything consistent in this aimless series of unrelated scenes that hardly come together.
Carlos Magalhães
Super Reviewer
½
While greatly appreciating Carlos Reygadas' two previous artistic conflicts of the body and the spirit, I am admittedly less than thrilled with his latest, "Post Tenebras Lux," despite its Latin title, cameo from Satan himself, beautiful scenery and one thing I have never seen in a film before. The problem arises from attempting to do a stream of consciousness movie which only manages to confuse matters behind any comprehension. What we do know is that Juan(Adolfo Jiminez Castro) and Natalia(Nathalia Acevedo) are a pair of wealthy landowners, who have a couple of infant children, Rut and Eleazar. In one graphic scene, Juan shows that he does not mind getting his hands dirty before attending an evangelical service in the woods with some of his workers where he confesses to his internet use which is nothing compared to the highbrow bathhouse orgy him and Natalia attend in France with rooms named for Hegel and Duchamp. That's the reality. The dreams are a little bit more tricky, as they are referenced a couple of times, first with a dream of Rut's and then when Natalia is later pounding out a Neil Young song on the piano. Everything else is a little less clear, as it all may circle back to a key incident late in the film, including flashforwards to Rut and Eleazar being older, first at a party and then maybe Eleazar at a boarding school in England playing rugby. Confusing matters beyond all despair are the occasional photographic distortions which could mean it's all a dream or maybe not. You decide.
½
Wow. Another bad avant-garde film. Two thousand thirteen is so far the worst year in living memory for avant-garde film.
William Dunmyer
Super Reviewer
Post Tenebras Lux Quotes
There are no approved quotes yet for this movie.